Share This
We have a customer/friend that works at Portland Mini that owns a 2011 WRX and he was asking to get his car tuned.  Normally we don't do a lot of customer tunes, but in this case i didn't have much planned one night, and i was dying to tune a Stage 3 2011 WRX.
Ethans car is a 2011 WRX Sedan (My current favorite Subaru) that has been slowly upgraded over the last few months from a simple AccessPORT to a stage 3 with FMIC.  I am pretty sure that Ethan didn't plan on it going this far, but i know he is pretty happy with his new found power.  What i like about Ethans car is that its on the edge of Hella-Flush and lowered.  To us old school guys it much cooler to not have to replace tires every month.
Ethans car had our base AccessPORT Stage 2 92 octane map installed when we did our first run. This map is set for lower boost and pretty safe AFR.   The first run showed that the boost was a little lower than a typical TMIC car, which is normal after installing an FMIC.
The reason why the 2011 WRX's are my favorite current car is because they make such great Wheel HP. That and the longer geared 5spd tranny makes this a really fast car.  In this case, Ethans car made basically the same power as one of our shop STI's!  That is really awesome considering it still had the stock header, stock TGV's, and stock uppipe, all of which are proven to make more HP than this below.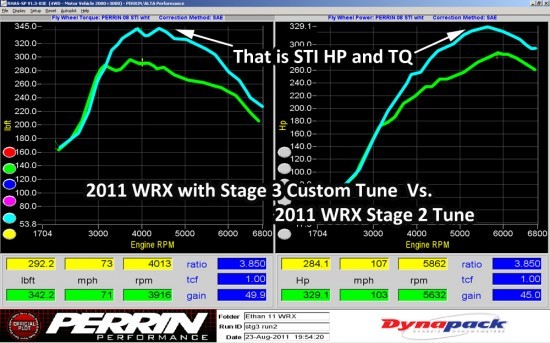 Like all 2.5L engines with stock turbos, you get some compressor surge under full throttle at low RPM and with the boost turned up to almost 20psi, it was for sure something to expect.  While compressor surge is happening, it messes with the MAF signal a little and that then changes the load and ignition timing. This is why there is a funky spot right around peak TQ. But its not something most people will feel only something a dyno  might see.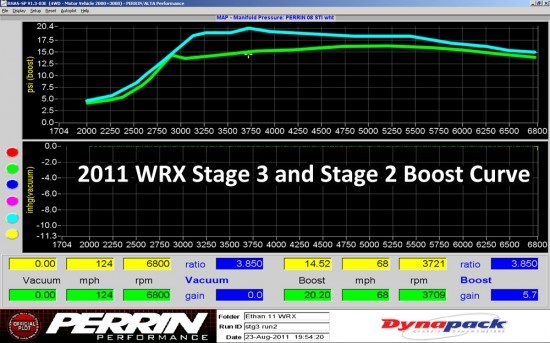 Like most tunes, its mostly about boost. This case isn't much different. With these stock turbos its as easy as just letting that turbo run full steam. This ends up producing a nice smooth and safe boost curve.  Currently we do not have a 2011 Stage 3 map for customers, but this may become something we offer here soon!
After his new found power, like most people Ethan wants more. While he was hanging out while i was tuning he found my old Blouch 2.5xtr turbo laying around. I think this got his gears turning!
Now we just have to get our other Portland Mini Tech Mr. Faris on track with his WRX!