Share This
By far the most popular setup for the BRZ and FR-S is a header back exhaust system. This consists of a 2.5" overpipe, 2.5" front pipe with cat, and a 2.5" exhaust system, and sometimes an intake system. Its been very well proven that these parts add a decent amount of HP to the car as well as some cool sounds. We have also proven that our Stage 1 ECU tune (for a stock BRZ or FR-S) is perfectly safe to run on a car with a headerback exhaust. What we haven't proven is that we can add even more power with further ECU tuning with all the 2.5" exhaust system pieces installed. What we will show is that additional tuning of these parts will make more HP and create our Stage 2 mapping.
Stage 2 tunes will be what we call a BRZ/FR-S with a 2.5" overpipe, 2.5" front pipe with cat, 2.5" exhaust system and a custom ECU tune to go with it. All the below tests are done with the stock header. Like all our other dyno tests we started with the car and did a bunch of runs to get the oil temps up and engine nice and hot. This seems to be an important step to getting the dyno runs to be consistent and be able to make accurate changes to the tune. The base runs were done with out Stage 1 ECUTEK tune for our 92 octane fuel, but with the full PERRIN 2.5" catted header back exhaust system. Then we spent time retuning the ECU to push the limits of the engine.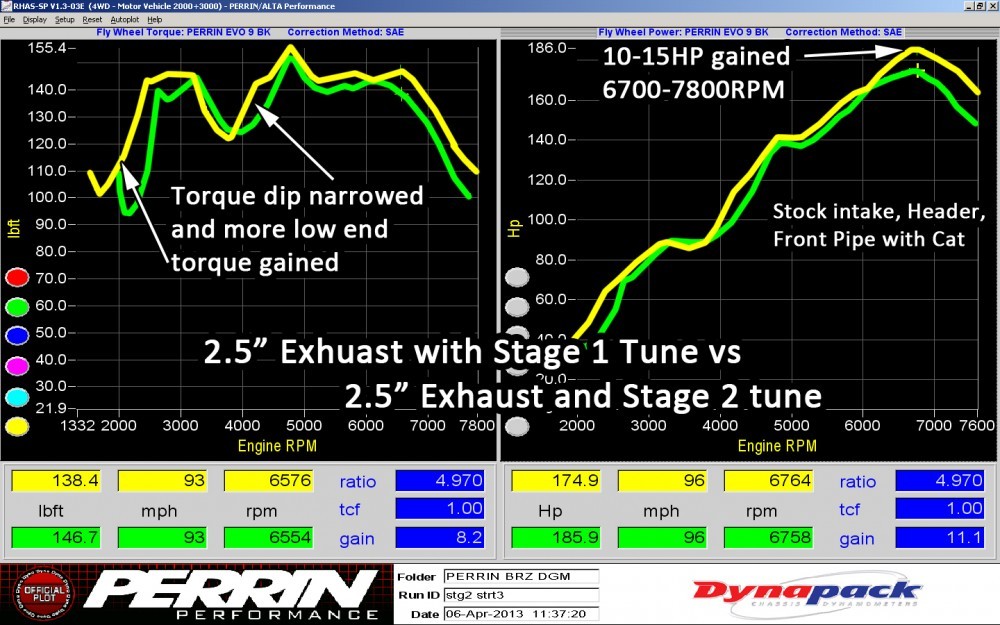 As you can see, we were able to gain more power almost everywhere! With a lot of time spent changing cam timing, fueling and ignition timing to get these gains. From this test we were able to conclude our PERRIN Stage 2 ECU tuning. This will be created for all the different intakes we offer, and for both 91 octane fuel and 92+ octane fuel. In the below dyno graph, we took our new Stage 2 tune and added the popular PERRIN cold air intake (2.75" size). This does require a recalibration of the MAF scaling to ensure the AFR is exactly the same as stock. As you can see even more HP is gained! The PERRIN Cold air intake along with the PERRIN Stage 2 tune, makes great upgrade package for those who have the 2.5" header back exhaust system.
Next up on the dyno is our 3.0" header back exhaust tests and the custom tune for that....
Take Me To The 3.0" Exhaust Dyno And Stage 3 Testing!