Share This
We are always looking to push the limits of the cars we build parts for. We have made huge power with the STI's, WRX's, EVO's and then with the BRZ using a Vortech SC kit. In all these situations the cars are boosted in one form or another, which makes it really easy to make more power.
Now we want to push the limits of the stock BRZ engine in its naturally aspirated form. In this first post we will see how much power we can make with two constants. The OEM header with cat will be used as well as the stock engine with stock cams. These are two important factors as we know that there is more HP to gain from the engine changing these parts. Since our main customer base isn't going to do this, we wanted to show what kind of power you can get with going with simpler bolt ons.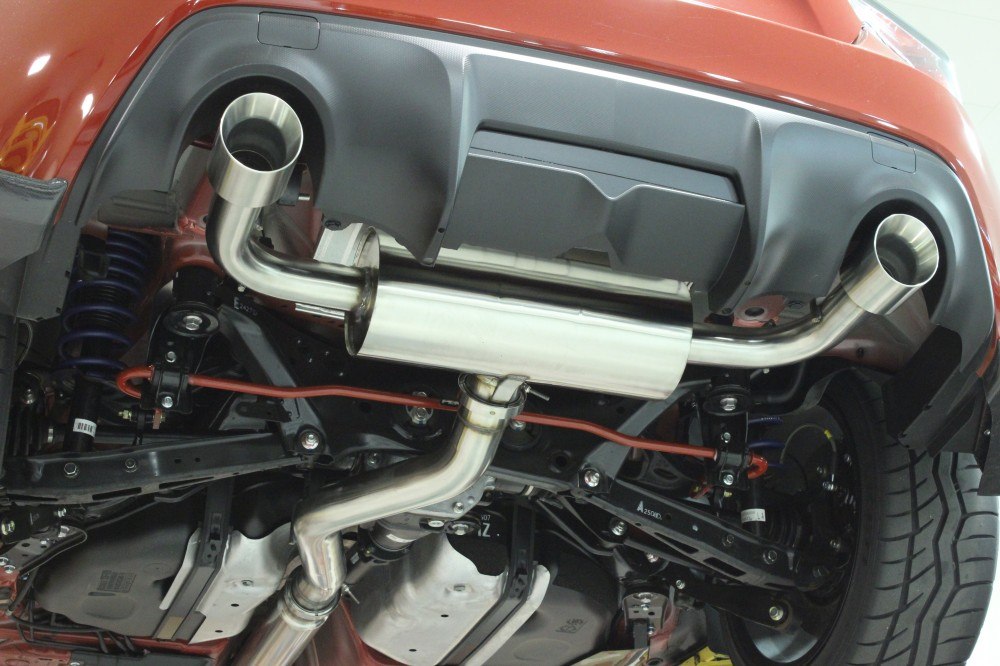 We originally created the 3.0" catback and 3.0" front pipe for customers that want to make the most power from their forced induction kit (Supercharged or Turbocharged). In this case we wanted to see how these bigger exhaust pieces would work on the naturally aspirated engine. We suspected more HP but the question is how much. We also wanted to prove that a bigger exhaust doesn't loose low end power and gain only top end power. This is a huge misconception with customers modifying their naturally aspirated BRZ that we know is a myth.
In our first test we started out with our shop BRZ in Stage 2 form. This means, it has a 2.5" catback, 2.5" front pipe with cat, 2.5" overpipe and a specific ECUTEK tune for these parts. In this test we left the stock intake system on the car to reduce the variables with power. After the normal warm up and multiple runs, we saw 183 Wheel HP as the peak HP number and 155ft-lbs of torque as the peak torque number. As quickly as we could (about 10 minutes) threw on the 3.0" front pipe and 3.0" catback exhaust and did more runs. We left the same Stage 3 ECUTEK tune on the car as before so the only change was the exhaust system.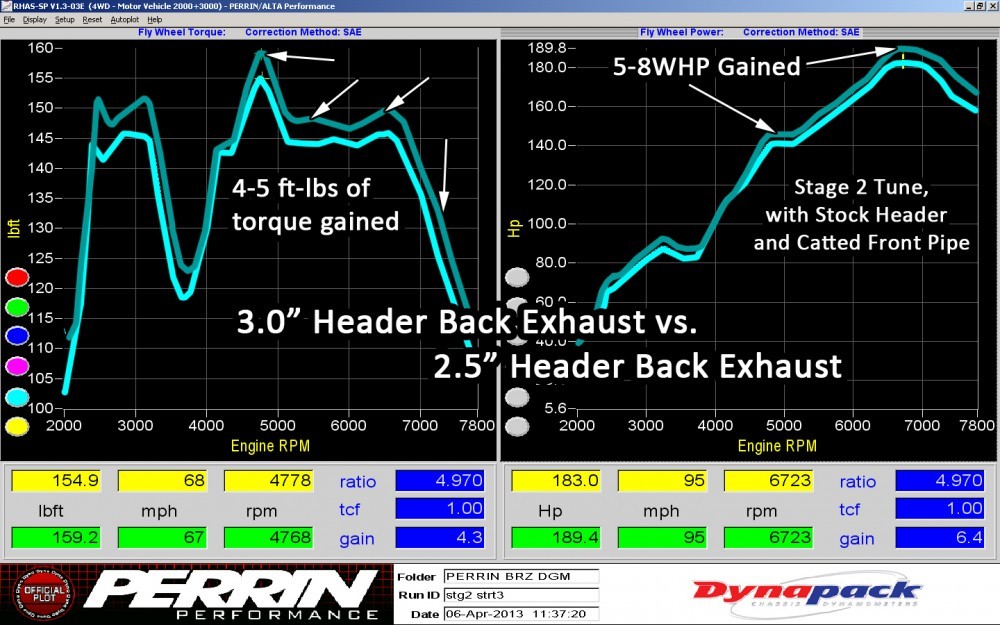 As you can see, this test shows that a 3.0" exhaust DOES make more power than the 2.5" exhaust. You can also see that there is NO loss in power or torque anywhere. And with gains of 5-8 WHP and 4-5 ft-lbs of torque, there is no reason NOT to buy our 3.0" system over the 2.5" system.
The next test we did was install our 3.0" intake system and retune the ECU for this new setup. Adding the 3.0" intake and retuning allowed for a bit more HP over the Stage 2 with 3.0" exhaust and stock intake. We were able to squeeze out another 4 Wheel HP from around 6500 RPM to redline, which ended up making 192 Wheel HP. This was the most we had ever seen on the naturally aspirated BRZ. Having all the 3.0" parts together, and the custom tune for this creates our Stage 3 setup. The below graph compares the PERRIN Stage 2 setup to the PERRIN Stage 3 setup.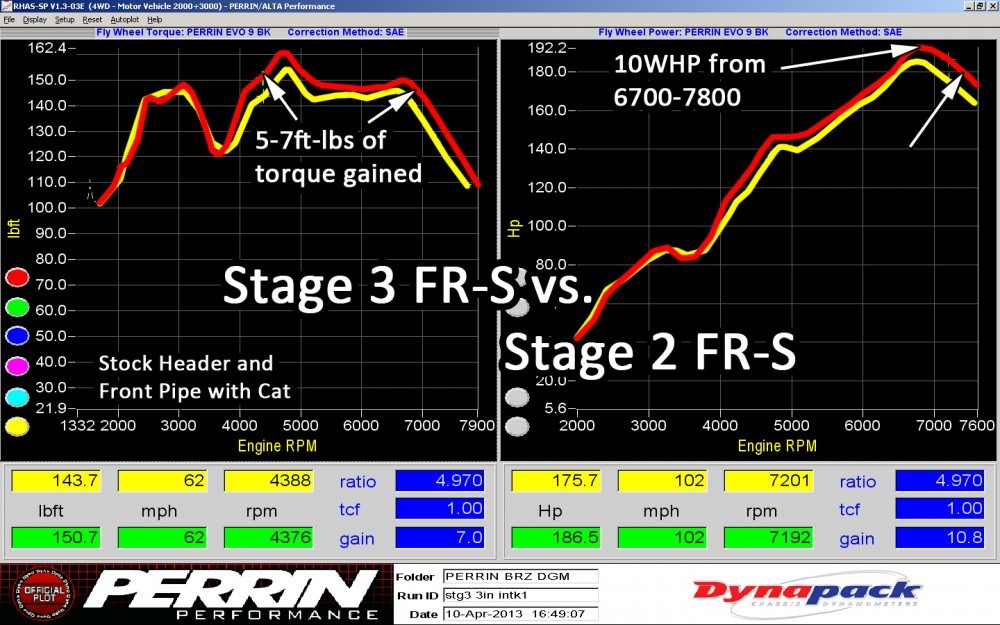 This last comparison is showing a stock BRZ to the final PERRIN Stage 3 setup. The torque dip is narrowed, there is ZERO loss in HP, a broader HP and TQ range to redline, and with an additional 10-30 wheel HP and 15-20ft-lbs more torque this is an amazing change! This completely transforms the car by removing that lack of overall power, and lack of sound! Keep in mind that all these tests are done with the stock header (contains a cat), and front pipe with cat!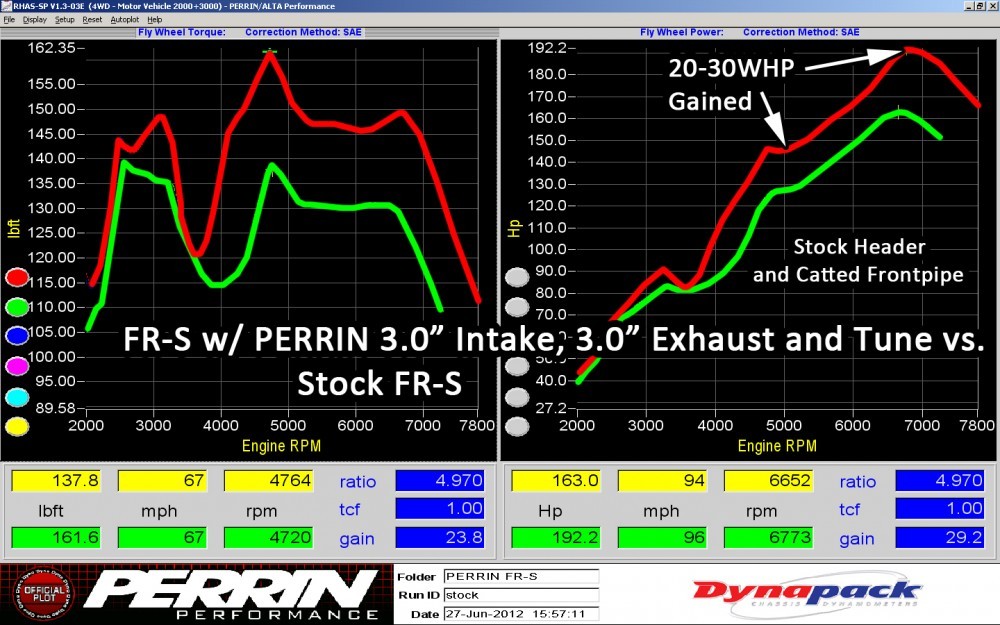 So real question is, "Why shouldn't everyone go with the 3.0" exhaust and intake?". The only penalty is the 3.0" parts cost a bit more and the exhaust is a bit louder than the comparable 2.5" exhaust. At our current MSRP's, the cost to go from the Stage 2 (2.5" Exhaust, ECUTEK tune, PERRIN CAI) to Stage 3 (3.0" Exhaust, ECUTEK tune, PERRIN 3.0" CAI) is about a $150 increase. So for those who do not have any parts yet, the $150 increase is well worth it.
The cost to gain 30 Wheel HP is around $3100. This is still far less than a turbo or supercharger kit (with proper tune) and will satisfy most customers HP goals for a long time to come.
What is next for PERRIN and BRZ/FR-S in regards to naturally aspirated power? You will just have to wait and see!