Share This
Project 15K started life as a $10K 2002 WRX we purchased to show people how you can get great power from the older 2.0L cars.  The project car was purchased with a lot of miles, but also a few mods already done.  The Blaze yellow WRX had a catback exhaust, catless downpipe, huge diameter uppipe (huge is not a good thing) Version 1 AccessPORT, lowering springs and not to mention a sweet grounding system using  8 gauge near solid core wire from Home Depot.  We wanted to show legal HP at the same time and we installed the OEM downpipe and dynoed the car the way it was with the COBB base map.  Then flashed the stock map on, then finally we did some custom tuning.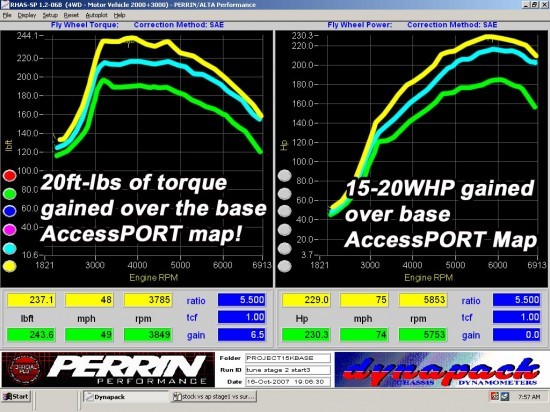 Project $15k was called this because we wanted to spend no more than $15K (including the car purchase) to build the car.  The car we got was pretty rough and a lot of man time was spent on it getting it clean and ready to modify. On the list of mods is going to the stock downpipe (because the car came with a catless DP), Blouch Big 16G, Injectors, Fuel pump, intake, TMIC, basically we were going to turn it into a stage 4 setup.  If time and the imaginary budget allowed, we would do a header test on a 2.0L engine.  Not something we have done before.
Besides power adders we had plans for normal maintenance items, brakes, brake pads, lines, fluild changes, wheels and tires, and that kind of stuff.  Most of this info can be found HERE ON OUR SITE
Along the way there were the unexpected parts to be replaced.  Of course there was, there always is with projects like this.  The OEM turbo inlet hose was bad to start with as was the Intercooler Y hose. These were replaced in necessity, and not to mention helped make some more power.
We tried to make this project just as though anyone would do it, by not only "buying" parts, but selling the ones we take off.  So with all these addings and subtractings, we came very close to the $15k price.  But who ever sticks to their budget!
In our last installment showing off the HP we made, we showed the graphs from above, and finally we can show off last 2 steps to Project 15K and even one bonus step to keep the forums  guys happy!  The first test we did was the 2.0L header test. We took our runs on the dyno did a 3 to back up our gains from previous dyno results.  We then, as quickly as we could, replaced the OEM header with our PERRIN header.  The "quick as we can" was actually about a day of work.  This is because a 2.0L WRX requires the STI oil pan and oil pickup in order for it to fit.  So after the header was installed, we did a few runs and found pretty decent gains.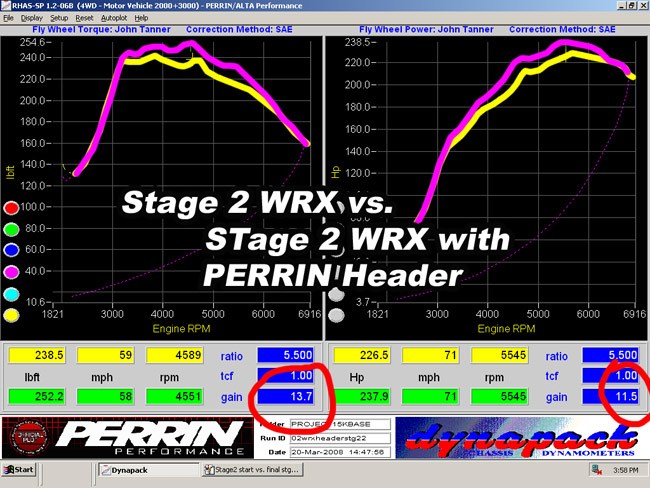 The header doesn't quite react the same as it does on the STI motors, but still pretty good gains to be had by doing no tuning, and don't forget stock downpipes are still installed!
Next up is the Stage 4 setup.  Sounds easy to do but this is a big step as a lot of things have to be removed and installed.  The full Stage 4 build up  can be found here, but the biggest thing we installed was the Blouch EVO3 Big 16G turbo. Its capable of flowing enough air to make 395 engine HP.  Which means about 300WHP is what we should see.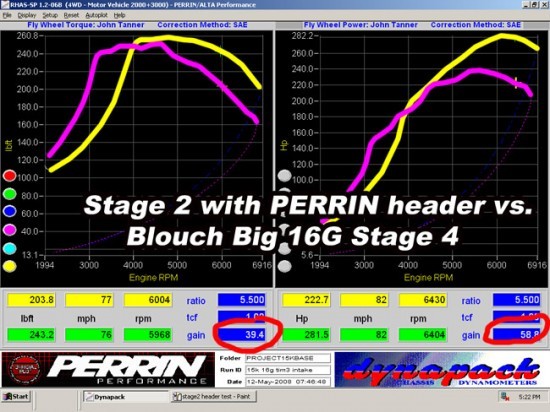 Again both results were done with the stock downpipes installed.  Anytime you start increasing the size of the turbo, you start to start to loose bottom end power.  Yup that is for sure!  Just make sure when you are picking your projects turbo, that you pick one that suites your needs for both power and response.  The 280WHP is about what we would expect, as is the TQ numbers.  The loss of bottom end power was expected also, but the bigger more than makes up for it above 4500RPM.  Because this was a pump fuel tune, we ran 18psi peaking to about 19 at 5000RPM.  With the stock downpipes in place, the ECU was still sensitive to timing and fueling. So this was actually a pretty good safe tune, and we know others have made more than this but for 92 octane, and stock downpipes this is pretty good!  Over all this step costs about $2200, not including the money you might make from selling the stock parts after the install.
We keep mentioning the stock downpipe is installed, because hardily anyone does this, and we think that for a legal setup this is pretty potent. But, yes there is a but, we have had lots of forum guys ask about us dynoing the car with a 3" PERRIN downpipe.  So we did!
Like our other tests, we stared with a few base runs, then swaped the parts right away. This step took about half an hour to install on the dyno.  So after it was all buttoned up, we did 2 or 3 runs with no additional ECU tuning, and the gains were pretty significant!  The downpipe made a huge difference in overall power.   Most guys get 300WHP on this turbo and now we were hitting 315WHP!  Now we are talking!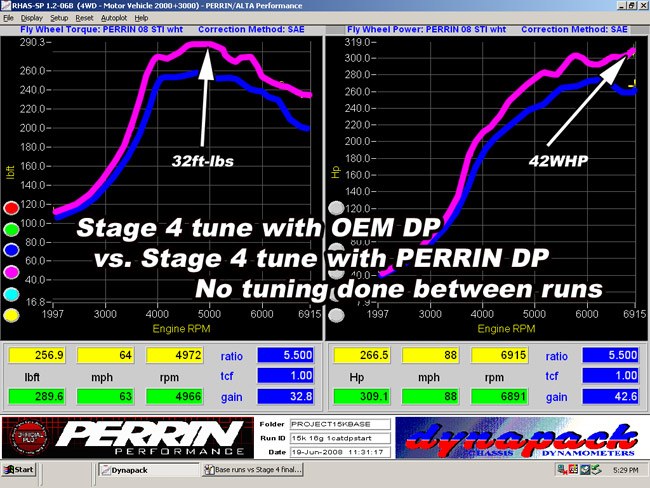 We  did do some final tweaking of the map but no additional peak HP was found, and not much other than some smoothing of the graph.  Overall, the parts of the map the ECU was now hitting were so dialed that our further tuning was just more for fun, than actually gaining HP.   So keep in mind our downpipe has a cat still and is still a pretty legal part.  As are a lot of the other parts we have installed on the car.
So that's pretty much as far as we are taking the car.  Any further and tranny issues could arise, or engine failure issues could arise.  So we now have a WRX that could easily hang with a stock STI and do pretty well with a modded stock turbo STI.
So whats next for project 15K?  We are going to sell the car for about $15K, and do the same thing with an STI, most likely dubbed Project $25-30K.  Same thing, we are looking for a rather untouched STI for about $20K and then spend about $5K-10K and see what we can do.