Share This
As many people now know, we are selling/tuning Unichips for the Mini. We have proven the Unichip can make big power on the new R56 model, and now its time to prove its worth on the R53 Mini! It may sound funny that we are re-proving an already proven product for the R53, but no one has really done back-to-back runs proving what it can do. We like Concrete Evidence that something works, and this is exactly that.
Also it seems as though no one has done back to back ECU tuning on a R53 and proven any engine management to do anything. This is either from them not gaining much beyond stock, or no one has really done it. The few we found were showing gains from increasing the redline, but no increase in the normal RPM range. In the past, Unichips for the R53 Mini were sold with off the shelf maps that make a little extra HP over stock. While these maps made noticeable gains, we wanted more! The maps created for the Mini were created with smaller exhaust than most people run (2.25€ vs. 2.5€) and we wanted to maximize these newer standards.
TEST #1€¦.The GP
Yes we are starting out with a bit more HP than the other JCW packaged Minis (215 vs 207) this is only from the extra 100 RPM of redline from the normal JCW bolt on package. During this test we stopped the runs at 7000 to show what other JCW guys and normal S€™s can expect from the Unichip upgrades. With a few new base runs done, we saw consistently 190-192WHP, and a peak torque of 167ft-lbs. Time to start tuning!!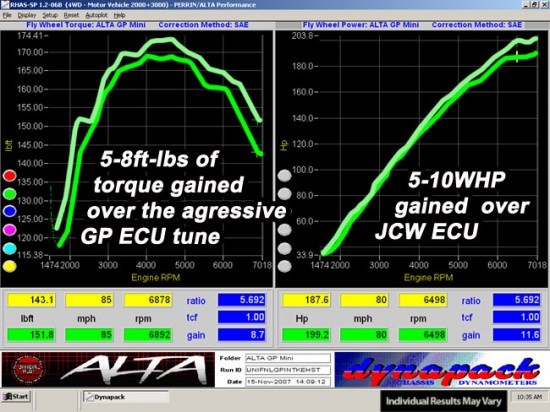 There are many things we learned about tuning this engine compared to other Turbo cars we tune. Too bad we can€™t tell you what that was! J But being serious, there is quite a bit left on tap with the stock ECU tune. As with any car manufacture, they detune the car a bit to work well in all parts of the world. We were very surprised that we got the gains below from an ECU that was €œtuned to the edge€ from the factory. Just wait until we get our hands on a normal Cooper S and tune it! Our R53 test and tune with the Unichip is almost done, be on the look out! We thought it might be a good idea to compare our overall power to the stock GP. This shows what the ALTA UnichipTune/ALTA intake/ALTA 2.5€ Catback gained over the bone stock GP. This is a package we will be offering for any JCW/GP customer that may want to bump up their existing power to 200+WHP. This package retails for $1775.00 and if purchased together, $1619.99 with free shipping.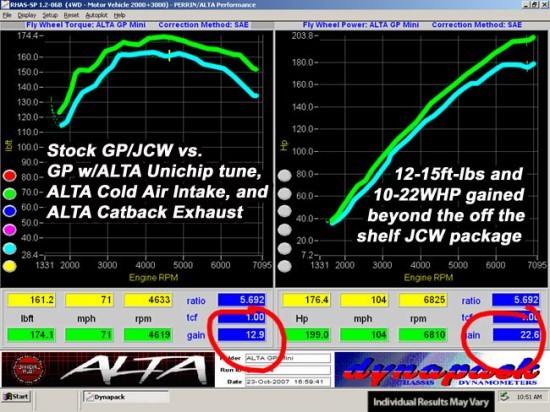 While the initial runs were done a few days prior, the ending results from that day were the same as our starting numbers from the Unichip test and tune day.
CONCLUSION
Proof is in the results. ALTA is once again proving a product we sell and support. The Unichip has a great name in the land of Mini and we plan to keep it there. The results we got were very solid, and not on the ragged edge, so the numbers you see above is what you should expect to see with similar mods. We started with our GP/JCW packaged car because it seems many of current owner of these cars think their car is maxed out. Well, they are not! Also in the upcoming months, our new shop will be ready for retail customers, and we will be offering custom tunes. Mainly for customers that might have a special part or two installed. We are looking for a couple of guys in CA or somewhere with only 91 octane fuel for some further testing.
What can we do next to get more power?
Well there are a couple of things, Header, Water injection, V2 intercooler. Over time these will be installed and tuned. Be on the look out! So where can you buy this??? Well on our site of course!!
CLICK HERE!!
Hydra graph!!