Share This
One of our long time local dealers Pro-Image Performance, had seen our SEMA 2006 STI limited and wanted to build their 2006 STI to be just like it.  Josh and his father both are big time track guys, and both have 2006 STI€™s.  As Josh does one thing, his father follows along and does the same thing.  They both got bored with bolt on performance, and decided to get the PERRIN Complete GT3076R Turbo Kit.  This kit includes everything to turn a stock STI  (with a catback exhaust) into a 400WHP monster.  And we mean everything, from the turbo kit, intake, fuel system, headers, and even the AccessPORT programmed and ready to run!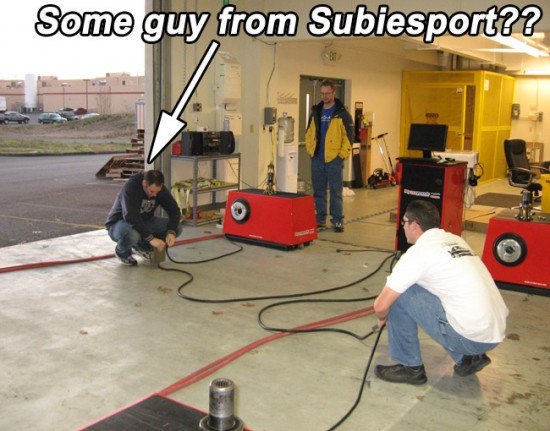 Ya, not sure, but this guy from Subiesport seems to show up for no reason sometimes????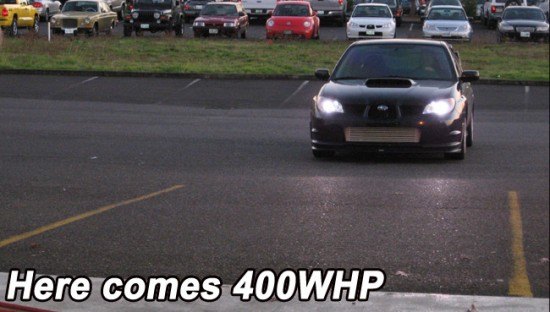 Love the all black with the STI lip.  Very mean, and very stealth!  Stealth except for the huge intercooler and exhaust... and big wing.....and Brembo's.... Nevermind..... Josh and his father installed the kit prior to the dyno day, and with a quick base map from Surgeline tuning, they drove down to our shop and the custom tuning begun.  Unlike a lot of customer€™s tunes, peak power was not as important as durable power.  Since Josh is tracking this car, 400WHP wasn€™t that important as is keeping the engine in a safe state of tune.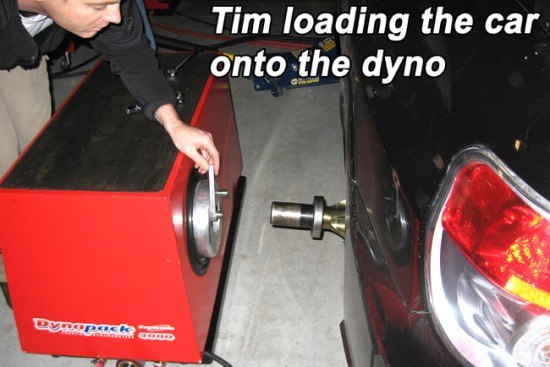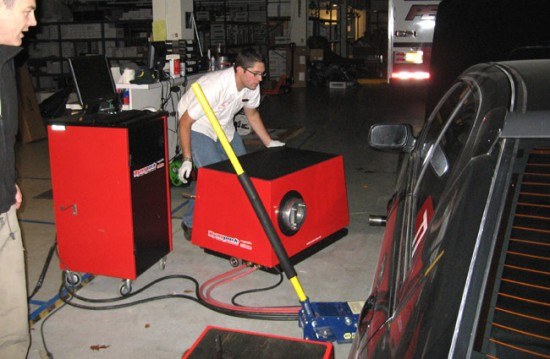 '
Locked and loaded, the STI was ready to do some runs!
Like any custom tune, we started at low WG boost.  This was done at 14psi.  As expected the car make almost 300WHP and 300ft-lbs of torque when tuned!  From there we started turning up the boost!  With a very good base map built for this kit, the tuning went very smooth.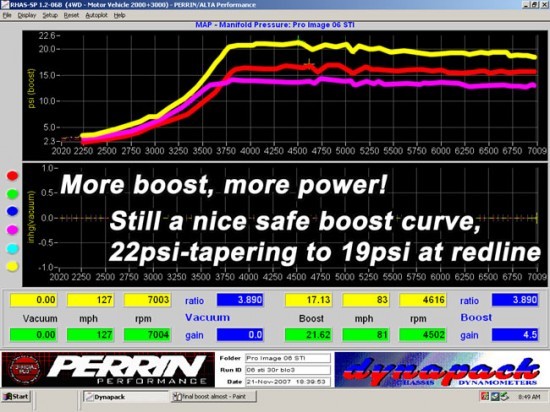 We feel this map is very safe because we stay under the OEM MAP sensors limits. This is important as this allows us to keep a boost limit in place.  For those who do not know, the stock MAP sensor can only read to about 21psi, so anytime your boost goes over this, the ECU doesn€™t know.  This means that instead of small boost spikes, you get uncontrolled 40psi boost spikes, this is bad!  Keeping the boost below this cap, allows us to build a safe map using our EBCS solenoid, and allows us to keep the OEM boost fail-safes in tact.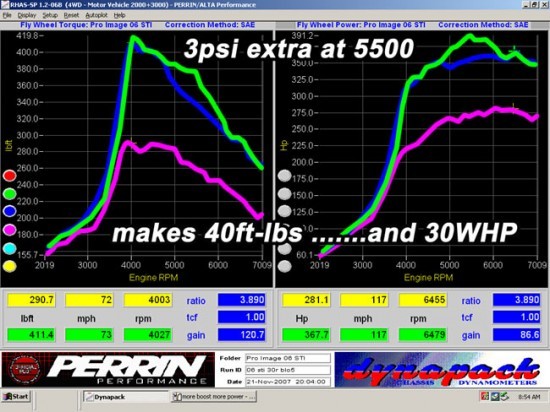 We never recommend that people run over 360-370WHP with the stock STI block, but here is a sort of €œglory€ run.  The extra HP was from holding 3psi extra boost until 5500RPM.   It comes down to the WHP you want is determined by the boost you run at a given RPM.  Besides running a reasonable boost level, the AFR€™s are nice and safe also.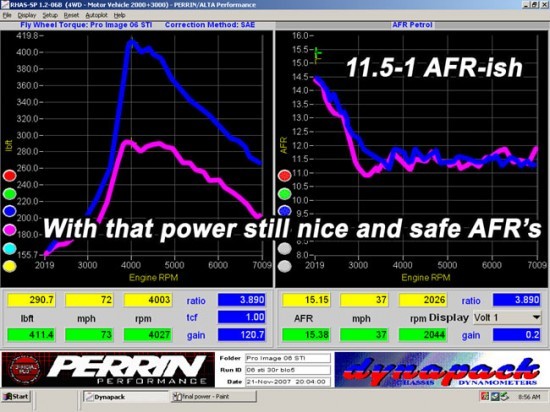 Starting with the first run, to the last couple tuned runs, we gained 120ft-lbs of torque, and 80whp!  If the customer doesn€™t notice that, they must have a numb ass.  So what is different about this tune versus others?  Torque!  Because this is our complete turbo kit, it includes our equal length headers.  The header make the turbo spool up quicker, and in turn more torque!  The rather large torque number comes from more boost at lower RPM.  Our 2007 Limited STI made 387ft-lbs and 405WHP.  This car ran 20PSI and held it to redline. For Josh at ProImage€™s STI we ran 22psi tapering to 19psi hence a little more torque, and a little less HP up top.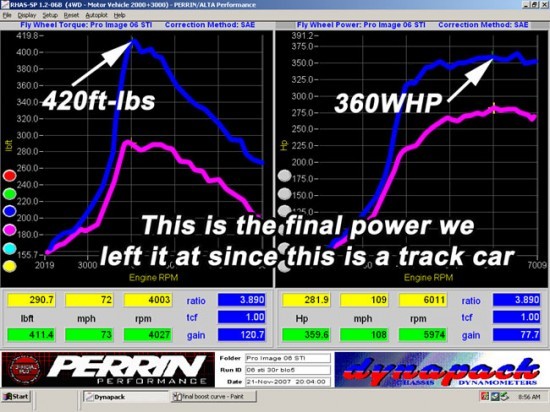 The final results are very impressive with this whole thing being done on 92 octane fuel only.  Next mod for Josh (which means his dad also) is water injection.  450Ft-lbs??  If nothing else we can make the same power, but with less boost.  Again, a great thing for the track! Thanks to Josh and his dad Stan for taking the pics along the way.  Anyone looking to get these same results give us a call, and lets get you setup!  PERRIN Performance is not quite ready for walk-in dyno tunes yet, but mid next year we will be.  With that said look for our showroom to completed early next year, and PERRIN Performances first ever Grand Opening!