Share This
The Story
Well as many of you have seen, not all of the ALTA crew and vehicles made it to the Dragon Event. We had some issues with our new GM 4500 truck. Cruising along down I84 at about 10pm it broke down. We were about 100 miles from Salt Lake City, and got towed by an awesome tow truck driver (S&M Towing) to Tremonton. You might wonder, what could tow a double stacker car trailer and a huge GM 4500?? Well a Semi! If it weren€™t 1am, and dark out, we would have taken a picture! It was a very small town, but there was a GM dealer, so we could get it fix! Right??? After a night in the hotel, it was "fixed" and we started on our way. With Dennys in our stomach, we were ready and excited as we were finally driving some roads we hadn't seen (been on lots of Vegas road trips lately). 100 miles outside of Salt Lake City, it broke down again! This time it got towed to the small town of Coalsville, another great small town in Utah. Moores Towing took care of this tow, and besides him being a totally cool guy, he owned a lot of the businesses in the town. As you see, it doesn€™t really fit on the trailer so well! It ended up being towed back to Salt Lake City to a HUGE (this an understatement) GM dealer.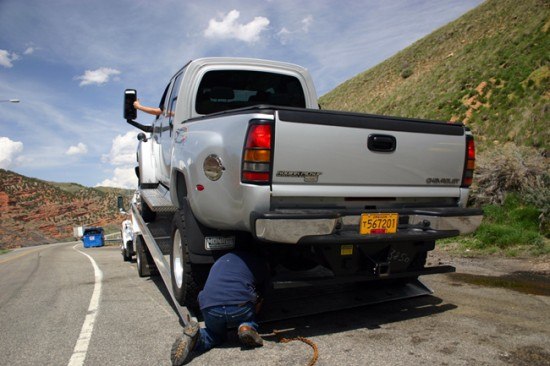 Back in a hotel for the night. The next day comes, and they still hadn€™t looked at the truck, and it was time to make the decision, that we either go home or go to the show. We had to make an appearance so we drew straws for who gets to take the R56 to the Dragon. Off went John and John! Yup I drew the short straw, so I got to stay with the truck and trailer. Late the next day the truck was fixed, and the dealer said it had a TSB out for a TCM to ECU communication error. They flash the ECU and I felt great that it was going to make it home with no issues. I loaded up the R53 (been using it to get around) and about 100 miles out of Salt Lake (going home) and it broke again. Not real happy at this point, but hey, I had a DVD player, and Kill Bill 1&2 to keep me happy until the tow truck came. Being that we were 100 miles from Salt Lake, we were close to Tremonton, and sure enough, here comes S&M towing! Back to Murdock Chevy for what might be the final resting place of the 4500. This time, with a little deeper digging into known problems and TSB€™s, they found a TSB for an intake pipe collapsing! Upon inspection, sure enough, this turbo intake hose was joke! There was evidence that it was collapsing and burn marks from the friction of the air trying to squeeze by it! The closest pipe was in Tennessee, and it was too late to Next Day Air it. So the dealer made a steel pipe to fit inside of the rubber pipe to get us home. Once again, I was on the road again, and feeling good about the fix. Well everything went fine for the next 2 days of driving. I made it home with basically no issues! Thank god (or whoever you want to replace that with) for small town hospitality and awesome tow truck drivers! There was a lot of time spent building displays, making signage, getting the booth ready, and new R56 parts we made, that we didn€™t get to show off because of the truck issues. So here you go! This is a small showcase of the parts we built and had for sale that should have made it. When reading about the parts below, envision that they are in a really cool booth with 3 ALTA Employees talking about them.
ALTA panel filter
This item was one we had ready to sell at the Dragon, but it didn€™t make it. The ALTA panel filter I not just a normal panel filter replacement like many others. The older Mini air box was made pretty well in that the portion above and below the filter is very open. The New R56 filter is much different!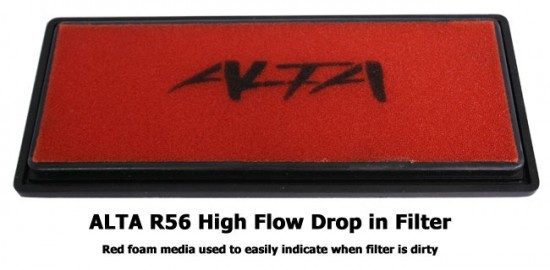 The lower portion of the R56 filter has very little room for air to travel across the entire filter. We saw room for improvement in this filter by making it slightly offset and slightly thinner. This simple change allows for more air to be drawn across the entire filter. Besides that, it is a high flow foam filter, which like all our other filters provides less restriction, and the ability to clean it for the life of the car.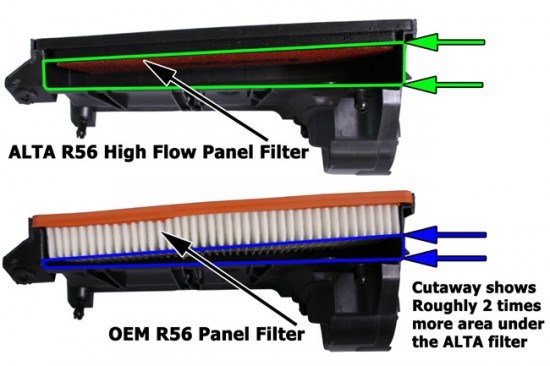 From the above diagram you can see how much thicker the OEM filter is and how far it hangs down. The Alta filter provides roughly 2 times the volume of air under the filter. Dyno results will follow very soon! Installation of this filter can be done in 5 minutes of work!
ALTA 3€ Catback Exhaust
This was seen on our R56 we had in Vegas, but production is all done, and here is the final part. Same design as seen in Vegas. The system consists of 100% 304SS, 100% 3€ tubing and straight through mufflers, high tech V-band flange connections and an adapter to fit to the stock exhaust. As we have proven before, this makes great gains with 15 Minutes of work! Here is a shot of the new system with the twin tips. This provides an aggressive look for the back of the car, and a perfect mellow sound!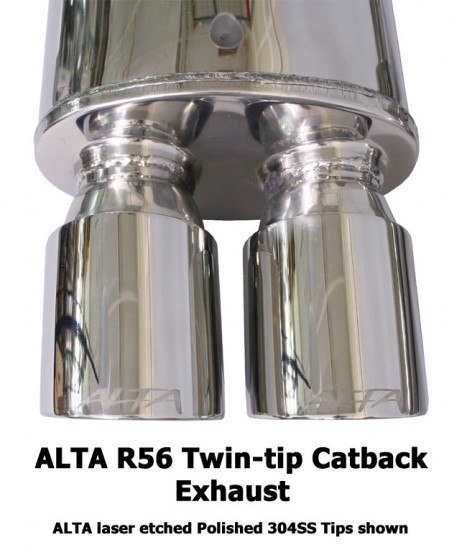 ALTA BOV and BOV Plug
Another part that we had at AMIVI was our ALTA BOV (Blow of Valve) and BOV block off plate. These parts are an essential part to increasing the boost levels of the R56. The OEM BOV is an electronic device that the ECU purposely blows off to control boost. When upping the boost in the new car, it is important to not allow the weak BOV to open and also it is important to not let the ECU dump boost from the BOV.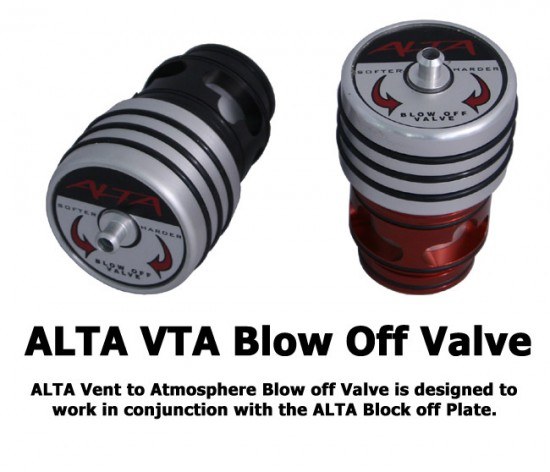 If one would like to add sound only, our BOV along with the OEM BOV still installed is another great option. This is simple, and allows the OEM BOV to blow off under light load and ours to blow off under heavier loads, and make some cool sounds!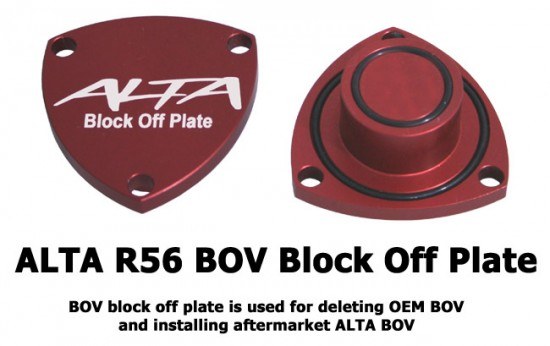 The Block Off Plate requires the removal of your OEM BOV, which takes roughly 20 minutes. To install the Blow Off valve to the R56 adds roughly 1 hour as the intake system needs to be removed, and port needs to be tapped in the intake manifold.
ALTA Intercooler Diverter
This item was something we had proven on our shop vehicle when doing some dyno testing. Like our other IC diverter, this too helps get more air into the intercooler. If you are standing in front of the car, and get down to the level of the intercooler, you will see that some of intercooler is not seen. The diverter inserts above the intercooler, and directs more air down to the intercooler. It€™s a simple modification that increases the density of the charge and in turn more Horsepower! The installation of this part requires the removal of the bumper, which takes roughly an hour to do.

ALTA BOOST tubes
Add some flair to under you hood with the ALTA boost tubes. The OEM rubber hose are somewhat restrictive in size, and they have a silencer installed on one side of the car. Who would want to silence that cool turbo sound! Included with the ALTA boost tube kit, are high quality SS hose clamps. These hoses are available in red and black to match your Mini, and take about 2 hours to install.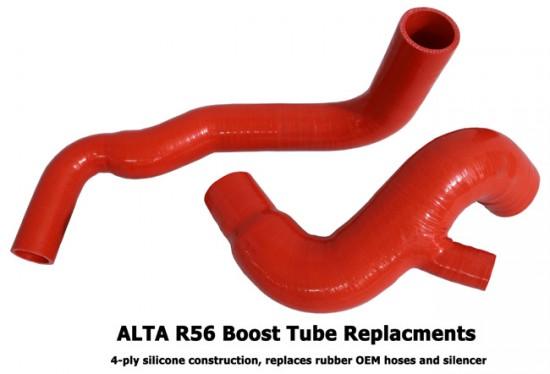 ALTA GT turbo kit
This was supposed to steal the show! But didn€™t make it! So here are some good pics of the kit, in its early stages. The kit uses a Garrett GT2560R turbo, and has the ability to use 3 other larger turbos. With this kit we wanted this kit to be able to produce 50WHP more than the stock turbo, which this turbo will easily do, and in fact, it can do about 100HP more! And for those crazy guys we can make one that supports easily 300WHP! The kit shown below illustrates the main pieces of the kit. Besides the turbo, an intake system, downpipe with high flow cat, boost tube connection, Manual boost controller, oil lines and coolant lines, and of course instructions! What makes this kit very unique is how simple it is. We definitely expect to be leading the way in turbo replacements on the R56 Mini Cooper. Expect the price of this kit to be under $2000, and take roughly 4 hours to install.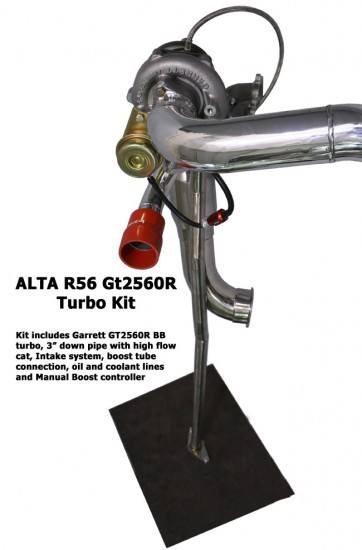 The kit is shown here on our stand we made for the show. You can see its pretty simple, intake, turbo, downpipe and boost tube connection.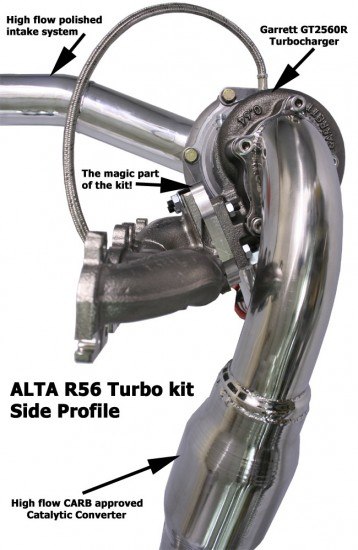 It not a super secret, but you can see here the part that makes this kit simple and durable.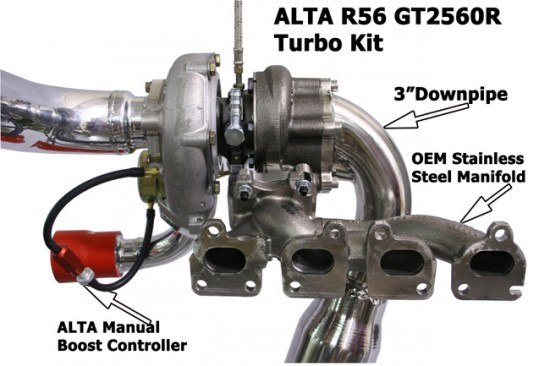 Shows more of the Guts of the kit.
ALTA 3K turbo Upgrade
The last item that we planned on spilling the beans at the Dragon, was our other turbo upgrade. In everyones quest for more power, or more fun, we came up with a less expensive way to get a little more from the OEM turbo. We will have very shortly an upgrade for these that will produce 30-40 more HP beyond the limits of the stocker. This upgrade is something that will work with all other OEM fittings like oil, coolant, intake and exhaust system. We need a turbo upgrade that is a little less intense than the GT turbo kit. This is the answer and anyone with a few wrenches will be able to install this. The kit will use an OEM turbo modified to flow more air. Expect this upgrade to be available in a couple of months, and cost in the $1000 range and take 2 hours to install. As time passes and we can finally start to tune these cars, this upgrade will become very popular and something hopefully as popular as a Supercharger pulley!! Please feel free to ask us questions about any of these parts, or any other part we have for the R56 not shown here. Don€™t forget we have the complete turbo back exhaust, PSRS, Swaybars, intake, Front mounted intercooler, and many other parts!