Share This
I learned a few things from my vaction in Maui. If you dont own a GM product, you must live there, Gas is $4.10 for premium, Mike D from GreenDay shops at the ABC stores, WRX/STI are very rare, Legacys do not exist, Chevy Cobalts have launch control,(good for make it actualy go fast), only 1 road with 55mph limit, all the rest were 35 or 25, and Poi is nasty!
After 10 days off, its time to get back to work! While we made a good first impression with the tuning we did on our STI, Cobb Released the 08 WRX AP's and it was time to start selling them! We could just simply sell them with the base Cobb Maps, but that is no fun! After playing catch up all week, Saturday was my first free day, and here is what i did! To make things clear as to how we tested our 2008 WRX sedan (yes, not the hatchback, its definately not stock). We are using the same Dynapack as we always use, using the same basic settings as we always do on Subarus. The runs were 14 seconds long, 3 seconds of launch, and on this car its done in 3rd gear. 3rd gear takes the car to 100+MPH so it works great. Our base runs we did showed a peak of 210WHP and 245ft-lbs of tq. I thought this seemed a little high. High enough i had to go back on the internet to see what Subaru rated the 08 WRX in HP and TQ. No its the same, 224HP and 226ft-lbs at 2800 RPM. Did Subaru under rate this car? Given the WHP and TQ we saw, if you compare it to our STI's base readings, it makes the STI's 245WHP and 275ft-lbs not look so good. With all the dyno numbers we have seen on stock STIs (rated at 300HP) The 245WHP range has been exceptable as equaling 300 engine HP. So if 240-ish means 300 engine HP, what does, 210WHP mean in engine HP?? Surely not 224HP!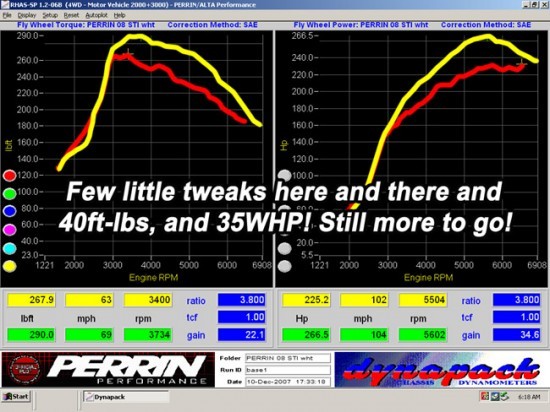 Graph showing our 08 STI in stock form and with stage1 mapping. The relationship of stock HP ratings vs. WHP ratings makes sense on this car.
Back to the Stage 1 08 WRX results. The lower HP graphs are what we got from the stock car, on the stock ECU. As i described above, this is very high for a WRX only rated at 224 engine HP. Running at 12psi peak dropping to 8psi at redline. The runs were very consistent. After an ECU reset to ensure things were ok and running smoothy, the base HP runs were established. Unlike the STI the WRX runs very well in stock form. Like most of the newer Subaru engines, the ECU runs 14.5 AFR while on boost, up to about 3300RPM. This seems very dangerous, but obviously it works fine for low boost levels, and is done for emissions reasons. ZERO knock was heard, ZERO timing retard was seen, it ran very very well. Smooth, maybe not, but that is where we can come into play.
Graph showing Stock 08 WRX, Cobb Stage 1 mapping, and PERRIN Stage 1 mapping. Which version would you drive?
We first flashed the ECU with Cobb's Stage 1 map. Boost went up to 15psi, and tapered back down to 8-9-is at redline. The increase in boost at peak torque (3500RPM) made for an extra 20ft-lbs of torque, and 25WHP at 3500. As you can see, power at redline didn't change, because the boost was the same. Now it was time to play! With some AVCS tweaking, adding a little more boost, changing boost response, you see what kind of results we got! At 3000 RPM, 65ft-lbs of torque over stock mapping, and at the same point we made 35 extra HP. The biggest gain we got was at lower RPM where the tiny WRX turbo is happy. At upper RPM, the turbo shows its small nature. The boost drops off after 4000 RPM and there is nothing you can do about it. Next is Stage 2 tuning. With a free flowing turbo back exhaust, i think there is quite a bit left to get out of this engine. Mabye not at redline, but from 2000-4500RPMS there should be lots of room! Look for intercooler, and Turbo back results with mapping soon!