Share This
We have listened to our customers and dealers to bring you something that you have been asking for, that hits a particular price point as well as performance levels that until now, we have not offered! Our endlinks have gone through a major revamp over the last few months and we now have three different styles to choose from for each application.
With virtually the same design bodies, we now have 3 different types of bushings you can get in your endlinks. Urethane bushings, Steel Teflon Lined Spherical Bearings, or Stainless Steel Teflon Lined Spherical Bearings.  All of them have their Pros and Cons, and this article is here to help better explain those to help you decide which style best suites your needs.
First we will hit on the bushings/bearings aspect of the endlink. This part of the endlink is what really separates them and is how you should decide which is best for you.
What is an Endlink?
An endlink is a very simple part that is found on virtually any car with a swaybar. An endlink is a simple part that connects a swaybar to the chassis and it's a vital link to ensuring your swaybar is used to its fullest. Typically the endlink is a rod that has a joint on each end that allows for articulation and rotation. Typically you find rubber, bearings, bushings, and polyurethane for the ends, but this is where endlinks can be very different.
For PERRIN Performance, endlinks have been a staple for our business since 2003. This all started with the 2002 WRX endlinks which were a terrible design made from plastic, and rubber bushings. This design left a ton of room on the table to improve above.

Why Do I Need To Upgrade These?
In 2002, the answer to this question was easy, get rid of a flexible connection between your swaybar and chassis. The plastic "C" shape of the 2002 WRX endlink had a problem because after installing stiffer swaybars, the material would flex and not transmit some of the swaybars stiffness to the car. On these cars the answer was easy, you need to upgrade them to ensure you get the full benefits from your upgraded swaybar.
This question got harder to answer as Subaru installed better designed endlinks that were not made form flexible materials. The 04 STI rear endlink was the first US car to see this type.  But soon after the release, customers were breaking links, popping ball joints out of their sockets and bending them. This is what drove us to continue to make updgraded link on all the future applications.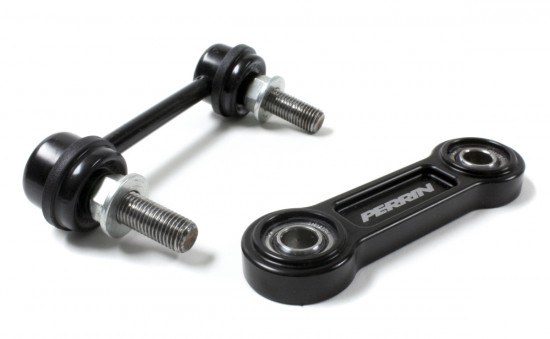 To fix the problem of the flexible endlink design,we use CNC machined 6061T6 Aluminum for the bodies.Since the first release of these in 2003, we have been using this material exclusively over the year, and its proven strong enough to keep the largest swaybars connected to the chassis. To solve the other problem of the ends popping out of OEM endlinks, we have choosen to use the race car like spherical bearings. These a very well proven item found in all forms of racing and have been proven to hold up on rally cars and other abusive types of off road racing. Being more expensive than other options, we felt that this was the be best and only answer, until recently. Now we  have 3 different types of endlink bearings  to choose from to suite different customers needs.
Polyurethane Bushings
This is the newest type of bearing/bushing we have added to our line up. Two main factors drove us to make these. The first one is cost. We know our endlinks are not cheap and don't fit all customers budgets for performance parts. Urethane bushings are much cheaper to produce, faster to make, faster to install and also allow us to machine the bodies faster (fewer ops). We took this a step further and changed the endlink body design to be a little simpler to help reduce our cost a bit more. These changes end up saving you about $50 off the price of our regular spherical bearing links.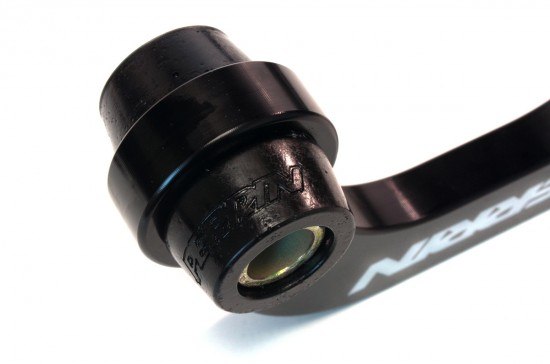 The second one is salt! Really salt! In states were roads are salted in the winter time, parts on cars just don't last. Parts (stock and aftermarket) rust, corrode, get loose and cause problems for customers. Short of cleaning every part on your car every day, its something that most customers don't have time for.  A benefit of Polyurethane bushings is that they hold up to salt, heat, cold, and pretty much anything all while providing the necessary articulation and rotation needed for endlinks.
Unlike other endlinks, PERRIN polyurethane bushings are not off the shelf, but custom made to our specs. We choose a stiff 95a durometer material to provide a feel similar to a solid spherical bearing endlink but without the harshness or noise that can be associated with them after years of use. That is another benefit to polyurethane, even if they loosen up, there is rarely any noise associated with them.  The downfall to polyurethane is that they flex. Under high load as the car transitions left to right, before the swaybar starts to twist the bushings in the endlinks need to compress. This creates a delay in the weight transfer of the car. Why does this matter? For those customers looking for the ultimate in control, they may find that they don't want this delay, or "slack" in their suspension. For those looking for an endlink that performs very well, and is nearly maintenance free this may be the perfect answer for you! For those looking for a slightly better feeling option spherical bearings may be your answer.
Steel Teflon Lined Spherical Bearings
These bearings are the same ones we have been using since 2002. These are a tried part, that hasn't changed  much over the years. These bearings are  a Teflon lined spherical bearing which provide the necessary articulation angles while maintaining a smooth resistance free sway bar motion. These precision bearings are used to provide a SOLID connection from your swaybar to the chassis compared to flexible rubber or polyurethane bushings. By far this is the more desirable type of connection for those looking for the most from their suspension.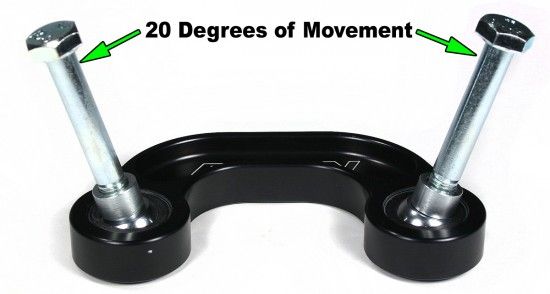 Like 99% of our parts, these bearings are MADE IN THE USA. The outer race is constructed of steel, with 52100 heat treated and hard chrome plated steel ball in the center. Between these two parts is a special teflon liner that provides smooth movement and also keeps the ball nice and tight for a very long time. The race is formed around the ball, which keeps the ball in place but allows it to spin around. Since teflon is impervious to many chemicals, its a great "Bearing" for extreme conditions. Because of our long standing relationship with our bearing manufacture, we can spec a tightness of bearing. This is critical to the life of the endlink and how long it stays tight. To the end user, this means much longer life before they start to clunk.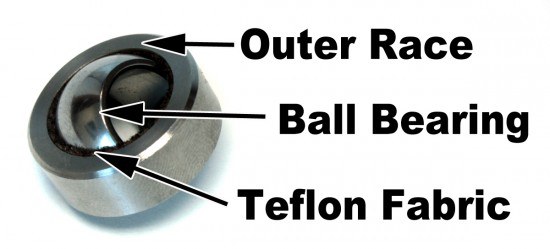 The downfall to a spherical bearing is they eventually loosen up. When they get to this point in their life span, they can become noisy and clunk, or rattle. This is more of an annoyance than anything else as in this state they are not in danger of failing. In fact, in this state of looseness, there is no performance degradation as the slop is a very small amount, meaning they will still out perform a urethane bushing. The other downfall is the materials they are made from. Because they are just steel, they will corrode. Especially customers that live in places where the roads are salted, the must expect to clean them often or replace them more often.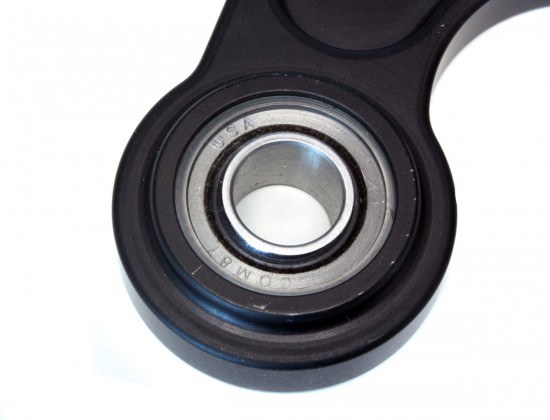 So what kind of customer are spherical bearing type endlinks for? These are for the no compromise customer that needs the most from their suspension, and is willing to deal with replacing bearings every few years to keep them maintained. Or a customer that lives in areas that don't see extremely cold climates where they will last years and years.
Stainless Steel Teflon Lined Spherical Bearings
These bearings are a step above the normal steel teflon lined bearings. These are constructed the same except they use higher quality Stainless Steel, races and ball. These still use a teflon liner between the two pieces which is critical to its life span. These use a heat treated 17-4 PH stainless steel outer race, with a heat treated 440C stainless steel ball. Together this provides all the benefits of the normal spherical bearings we use, but without all the problems with corrosion. This means, customers that live in highly corrosive areas will not have the typical rusting problems, or premature loosening of links.
There is only one downfall to these SS versions, the added expense. Each bearing is roughly 4 times the price which translates in to a much higher retail price. We have specifically cut our margins back on this part to help make them more affordable for our customers. While still being expensive, they are the ultimate in endlink design and bearing technology.
CNC Machined Bodies
This is an important feature, but its virtually the same on all the links. Starting with a block of 6061T6 Aluminum, these are cut out precisely to tolerances plus or minus .001" (actually .0005" on bearing bores). The only variables are things like color, overall shape and then the bore for the bearings. While the three styles look different, they all perform the same in giving our customers a zero flex connection between their swaybar and chassis.
Which Endlink Is Best For Me?
After all that there should be enough info to help you decide which style of PERRIN Endlink works for you. Keep in mind, price, performance, weather and maintenance as the factors to help you decide which design is best for you!