Share This
This is going to be a running blog page setup to show off the new Vortech Supercharger Kit for the BRZ and FR-S. We were one of the lucky few to get our hands on this kit to do some final fit and finish testing and of course dynoing! You can also discuss this HERE on FT86Club.
Most people first caught wind of the Vortech kit after seeing this add they released a while back. But a couple months prior to this we had already been in talks with Vortech about this up and coming kit. For us this was very exciting as there are so many great things about a Supercharger kit over a turbo kit.
So Why No Turbo?
We are known for making turbo kits for the WRX's and STI's and you better believe that we thought about a kit for the BRZ/FR-S platform. In early planning stages there were a lot of things that we had to consider. Performance of the turbo, placement of the turbo, thermal related issues, installation, tuning, boost control, safety, proper oil drain, a huge parts list, actual customer demand and cost. Everything about a turbo kit is easy except two major issues, cost and thermal related issues. The thermal related issues are things like melted engine components from headers and downpipes routing next to items that wouldn't take the heat. This would require a properly built thermal blanket for the headers and downpipe which is a huge expense. Cost is a huge factor for us as this is what would scare people away. If properly built with all things considered, we could be pushing to the $7000 range which is a huge amount to swallow, then add custom tuning and installation, you could easily push to $8000 plus range. The price and the actual number of customers that might buy this over the next couple years is what really steered us away.
The other thing is this car is a drivers car. Adding a turbo like power band could ruin the way the car acts. Currently the power band is rather flat and a smooth increasing HP curve to 7000-ish.  Adding a turbo and the HIT from the onset of boost is going to change a lot of things about how the car drives and acts under power in a corner.  What would be perfect is a power curve like stock but with 30-50 HP across the whole range. That provides the same basic characteristics as it has now, but with the power the car should have come with. This isn't an AWD car that can absorb some of that hit in the onset of boost from a turbo through the additional traction it has. This is a RWD with limited traction, so power modulation and smoothness of power is key to keeping this car a "drivers". The way to get this smooth powerband is with a supercharger!
Superchargers provide a very linear power band because of the boost curves they provide. This is a very desirable kind of power band for an application like this and Vortech has the answer we feel most customers will be looking for.
It's Here!
Today our package from Vortech showed up!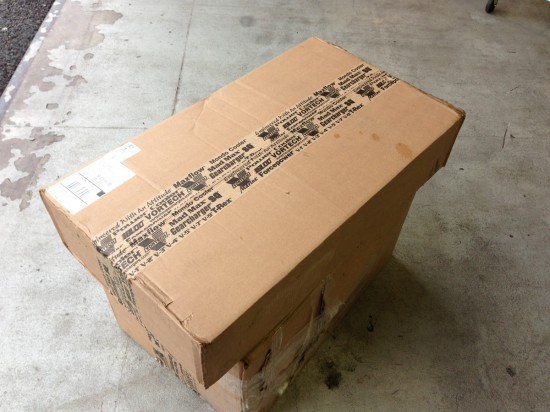 First thing I did was take all the parts out of the box and lay them all out to see what we got!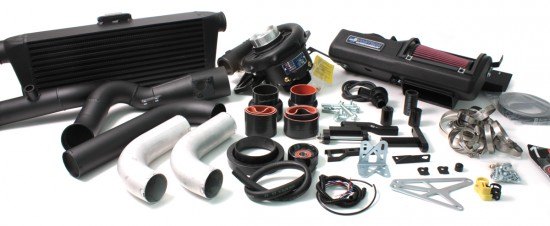 This grouping of parts may look overwhelming but it really isn't. Boost tubes, FMIC, couples, supercharger, brackets, intakes and some hose clamps. Its all rather very simple in its basic form. After spending time with the manual, this looks like its about a 2-3 hour install time, which is very fast!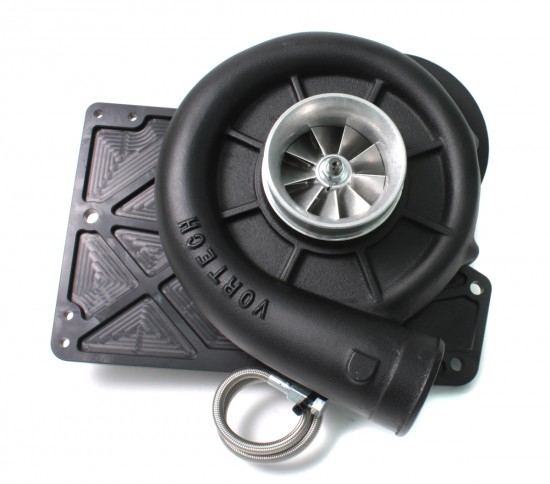 The heart of the kit is the Supercharger and main mounting bracket. This bracket is very beefy and integrates to the front of the engine using some stand offs and brackets.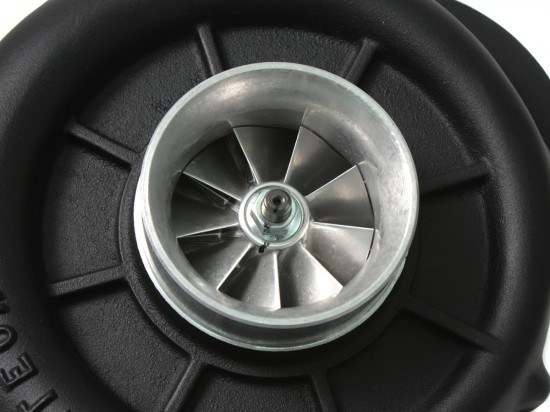 This is my favorite part of the kit. The intake system is very well thought out and very OEM looking. To the normal onlooker, they could pop the hood and not even notice that there is a supercharger installed.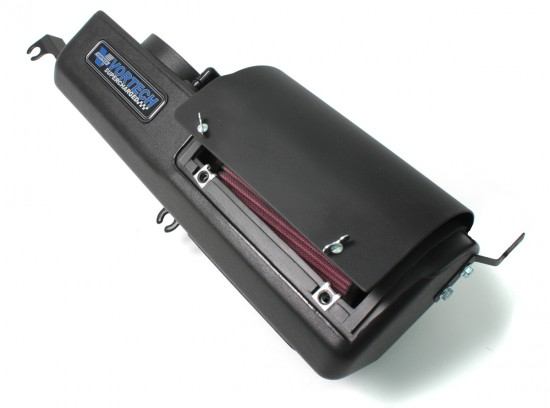 The airbox is roto-formed (a method of forming plastic) which makes for a very clean outside and super smooth inside. Other really cool thing is the small trap door for the accessing the filter. A couple of 1/4 turn fasteners are used to open the hatch and get to the filter. This makes for a very clean setup!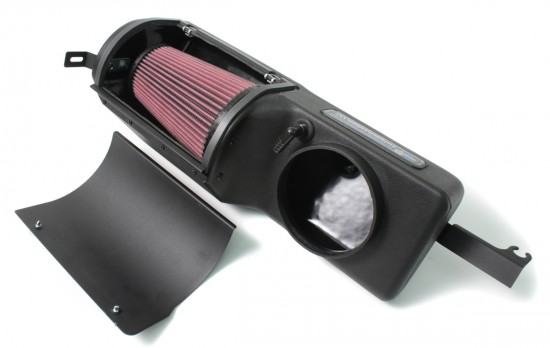 Like all good supercharger kits a blow off valve is included. I am sure many people will replace this with something bigger and badder, but this size is perfect for 5-15psi that this kit could make.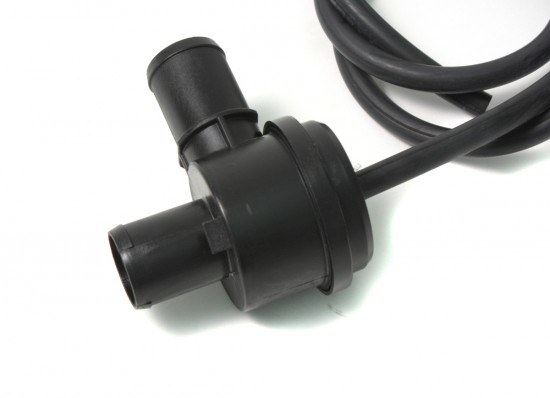 System Features
Gear-driven V-3 H67BC centrifugal supercharger, designed specifically for the FA20 Boxer engine.
The V-3 features an internal oil reservoir. No connection between the oil pan and the compressor gear case is required; no oil line. Includes a remote fluid drain hose (attached to supercharger) that allows for simple fluid changes without removing the supercharger from the vehicle.
Technologically advanced, high-efficiency, 5-Axis machined billet impeller and high-diffusion housing developed in our SAE-J1723-compliant supercharger test cell.
Stylized airbox and filter housing design allows for additional flow, while retaining the factory cold air ram intake. Quick release fasteners allow for simple access to filter for change/cleaning.
Integrated air/air charge cooler configuration features all aluminum tube ducting and an oversized cooler core to provide maximum cooling with minimum pressure loss.
Discharge duct connections utilize heat resistant silicon sleeves and premium quality stainless steel clamps.
CNC machined billet mounting bracketry with black anodized finish for attractive and functional "factory-type" appearance and rigidity.
Complete bolt-on system including all necessary belts, pulleys and reusable high-flow air filter.
There are going to be two part numbers offered. One is a complete kit and the other is a tuner kit. The complete kit consists of everything you need including fuel system modifications and an ECU re-calibration/reflash device. The tuner kit includes everything except the fueling and tuning device. These kits will require a custom dyno tune for your car.
PN
DESCRIPTION
PRICE
4TF218-014L
2013 FR-S/BRZ Complete System with V-3 H67BC Supercharger and Air/Air Interooler, Black Finish
    TBA
| | | |
| --- | --- | --- |
| 4TF218-114L | 2013 FR-S/BRZ Tuner Kit with V-3 H67BC Supercharger and Air/Air Charge Cooler, Black Finish. TunerKits do not include fuel management or tuning. (Ship Date December 2012) |   $4295 |
Dyno Proving Time
Huge Brain fart!! I pulled my car in at lunch to finish up the install on kit, and I had intentions to drive it home that day.  At 4:30 I was reminded that there was nothing going in and out of the shop for the next 5 days!! I completely forgot our dock's driveway was being repaired and my car is literally stuck in the shop! The brain fart is that I had been there all day listening to them tear it up, and it didn't click until about 6pm when someone asked "How are you getting home"!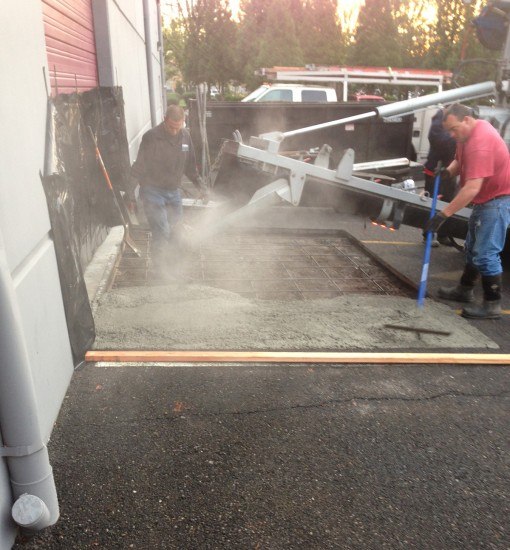 I guess the good thing is, it forces me to put it on dyno since I can't get it out of the shop!
With my car bolted on the dyno and a base map flashed to the ECU I started doing the testing. The supplied MAF housing wasn't providing a very smooth signal to the ECU and I ended up having to remove and make my own. After a few versions of this part I settle on one that seemed to work and not be maxed out from the added air flow.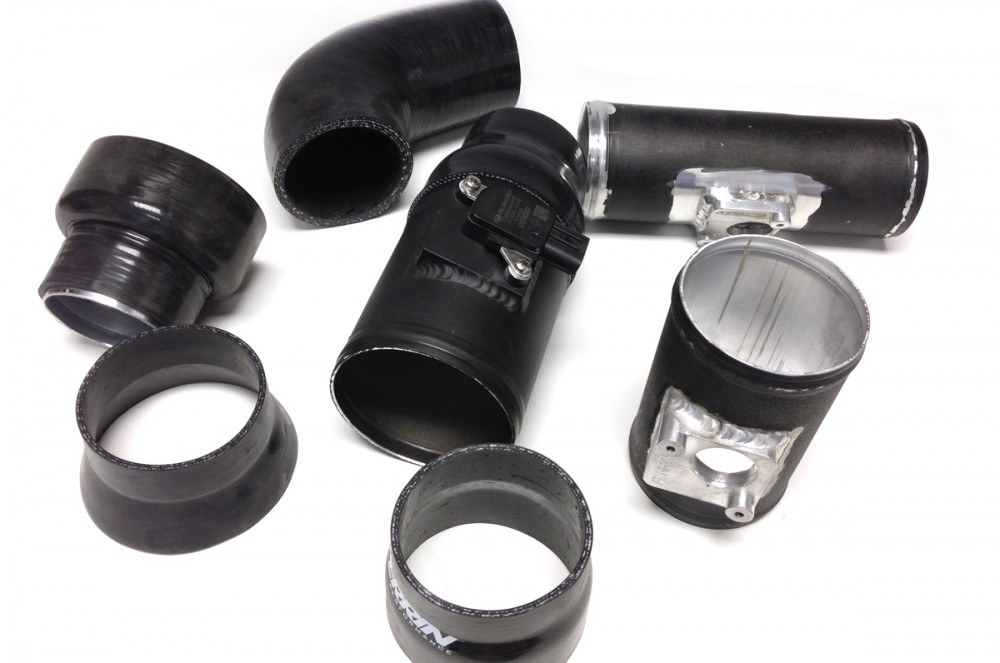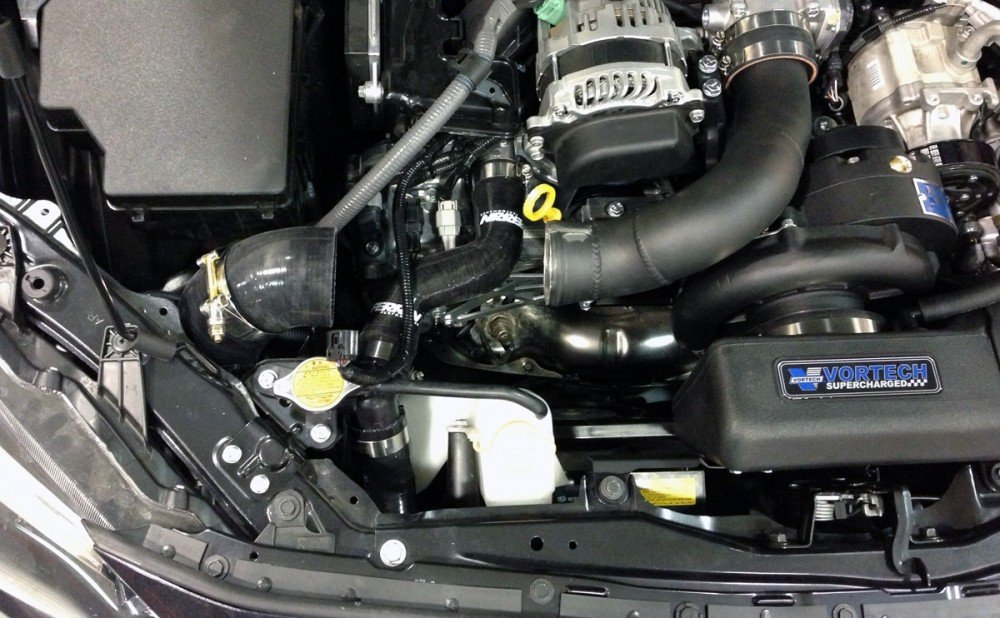 This is the first dyno run made after a 3rd blow through intake was built. This tune was no where near optimized, but the HP gains of 60+ Wheel HP were looking really good! For reference, these runs were made running about 5psi of boost at 5500RPM and 7psi at 7500PRM. Also this is done on our BRZ with only the PERRIN 2.5" Overpipe, Front Pipe w/Cat, and 2.5" Catback Exhaust. So stock header is in still place.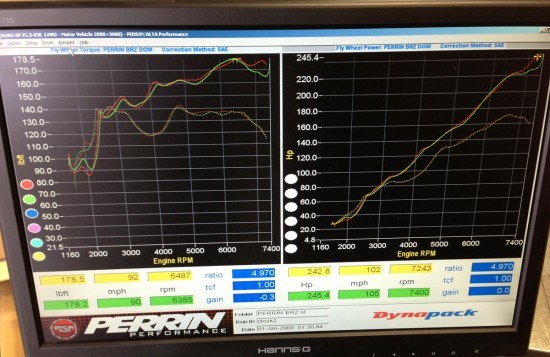 Now that the car is tuned enough to take it out for a spin, I couldn't wait any longer for the docks driveway to be cured enough to drive on. So I had to figure out a way to get my car out of the shop.
With some careful measuring and some help from the guys in the shop, I got it out!  There was .5" of clearance on each side of the car, which was more than enough to get the car out!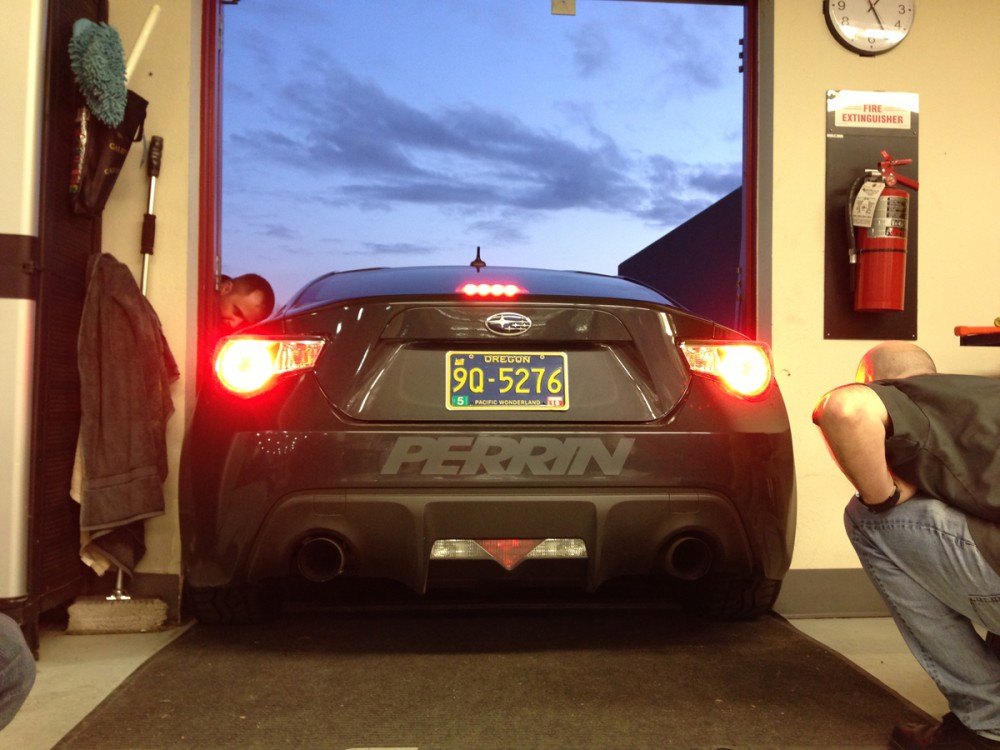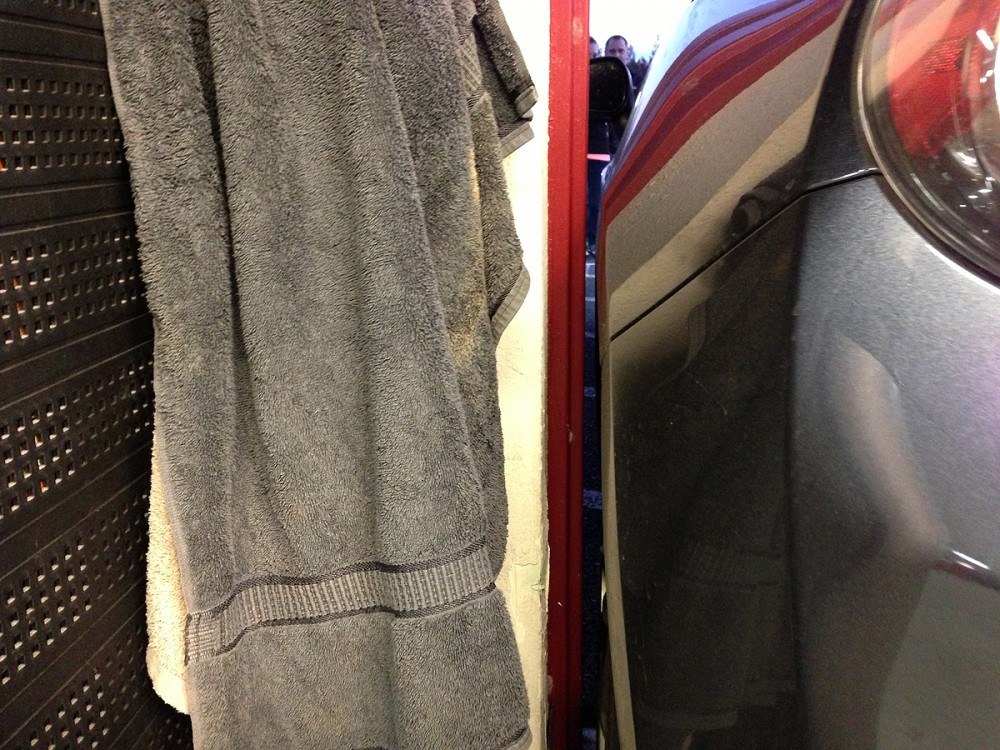 First Driving Impressions?
My whole reason for wanting a Supercharger kit over a turbo kit was simple. I wanted to preserve the linear power curve of the car but add 50 more Wheel HP. As you see, we added more than 50 Wheel HP, which is great! You can also see that the power curve/shape was preserved, making for very linear power that just keeps pulling to redline.
So how does it feel on the road? Its amazing. It drives exactly the same as it did before, during the normal cruising/day to day type driving. As you roll your foot into at any RPM it pulls much harder than it did before. Even at 4000 RPM, where that weird dip in torque occurs, it pulls much smoother and feels great.  Shifting at redline yields huge grins as the power is instant. Driving turbo cars forever you have a different perception was turbo lag is. I have had cars that I thought had NO turbo lag, but they really they did, it was just very minimal. With this car, I can say for 100% there is NO LAG!  I am very happy with the car and with further retuning, this will only get better!