Share This
Normally, when one of our shop cars goes up for sale, we just sell it the way it sits. However, for this car I am going to try something different. The buyer will be able to build the car to the specifications they want. That means, starting with a base car with a base price, then allowing the customer to build it up with a few options.  Whatever stage the car ends up, it can be dyno tuned and given proof of power with the dyno graph. The idea is to offer my 08 STI at a price point that suites almost any customer. To give you an idea, we are looking at setting up the car with 330-500 Wheel HP, and then of course all supporting mods to go with it. That means you have the ability to pick the turbo, pick the fuel system, pick the ECU, and a few other options.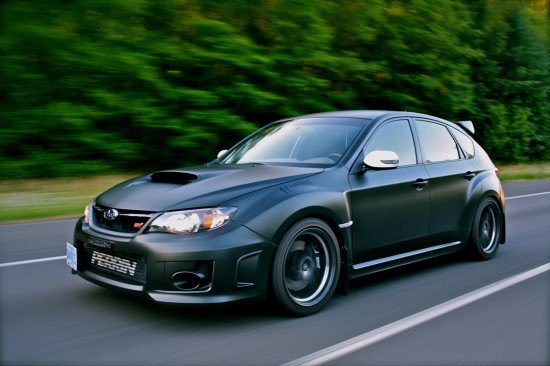 BASE CAR
The base car is a 2008 Subaru STI with 40K miles. There will be a few constants for all packages at the base price of $28,000. This price point, allows any buyer to get a normal loan for a car they typically couldn't. Starting with $28,000 as a base, is the same price as you would find a used 2008 STI selling for.
Car-Wrapped in matte black. Done by me, but with panels not full sheets. Check the write up I did. 2011 STI front bumper.
Engine- Built by me with Cosworth Rods, Cosworth Pistons, ARP Head Studs, OEM bearings,and high pressure oil pump mod.
Exhaust- PERRIN BigTube Header, custom Uppipe, custom Downpipe, Custom bumper exit catback system w/ exhaust valve.
Intercooler- PERRIN FMIC with white powder coated tubes.
Fuel system- PERRIN rails, ID1000 Injectors, Properly installed Walbro pump
Drivetrain- PERRIN Short shifter, Reverse Lock out Lever, Shifter bushings, Shift knob, and Rear Subframe lockdown.
Suspension- PERRIN Front 25mm Swaybar, 22mm Rear Swaybar, Zero Offset PSRS, and H&R Street Performance Coilovers
Wheels Tires- PIAA FR-S 18x9.5, Michelin Pilot Sport 275/40/R18
Extra- PERRIN Thermal Blanket for Header Uppipe and Turbo.
PERRIN Wing riser kit and antenna are the only external items on the car.
PERRIN Air Oil Separator
OPTIONS
There are many options for the car, but the below list is showing what we can easily setup. Some of these parts are new and some of them are from one of the many stages of my car.
ECU- AccessPORT ($0), Cosworth ECPro w/wideband EGT and ACT ($3000)
Gauges- None ($0), Prosport boost/EGT ($200), Defi Amber BF gauges ($400)
Methanol Injection using PERRIN PWI-2 , with Aquamist DDS-3 flow gauge/safety control. ($300)
Engine Mounts stock (0$), PERRIN Engine and Tranny Mounts ($300) or Group N Engine and Tranny Mounts, ($300)
TGV deletes ($200)
Comp Clutch ($0), Exedy Twin Plate ($800), ACT Extreme Duty ($600)
Turbo Stock Location- Blouch 18GXT($1000), Blouch 3.0XTR ($1400),
Turbo Rotated Turbo Kit- Garrett GTX3076R, ($2200) GTX3582 ($3000), Borg Warner EFR6758 ($2200)Borg Warner EFR7670 ($2500), Borg Warner 8374 ($2800)
Interior- Dash covered in synthetic suade lightly faded ($0), New-ish stock interior, $1000.
PERRIN Fuel Surge Tank setup, $500
Extra- We can almost add anything. You name it, we can add it!
CURRENT STATE OF CAR
As it sits, the car has an EFR6758 turbo, Accessport, and tuned to 400 Wheel HP and includes the WMI system and Defi gauges.  Leaving the car in this state, the price is $30,900, and adding some of the options can easily exceed $38,000. The added cost of all these parts/labor comes to well over $15,000 in extras. So a customer looking to buy these parts over time, can save huge money just buying the car already setup.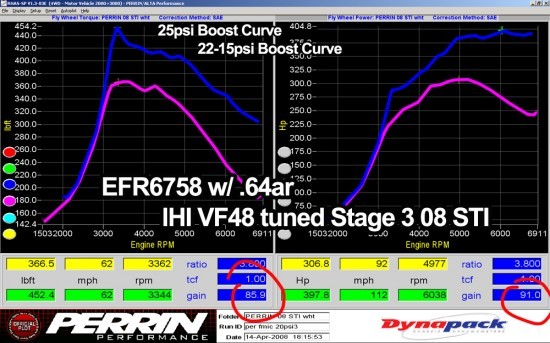 This car has made 240WHP all the way to 500WHP. These are a couple of the graphs showing recent HP with EFR turbos.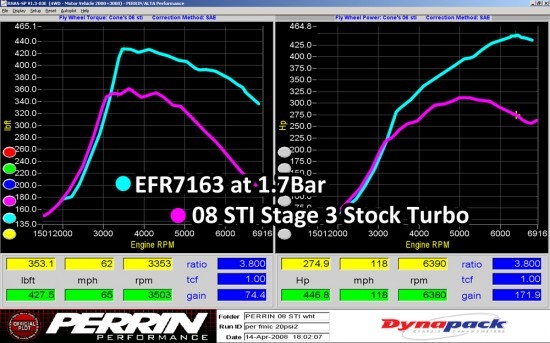 FLAWS WITH CAR
It's car that has been driven and used for R&D since 2007. So it's not perfect. The wrap job isn't perfect, the interior is faded, the engine is built looser to withstand the higher boost and requires good warm up, and the front tires are not in perfect order. You will still find that while it's not perfect, it is in much better condition than many stock STI's out there for sale.
HOW TO PURCHASE
When buying a car that has a price higher than the value of a stock car, the buyer may typically have to come up with the extra cash. This may not always be the case, but something to ask your bank about. In this case, I will accept wire transfer, cashiers check, or verified bank check, and if you have some trouble getting a loan, we can actually help you find someone. This car is being sold by me not the company.
Email [email protected]
I think it goes without saying, SERIOUS INQUIRIES ONLY!! Test rides will be given to serious offers. If you want to know how an STI drives, go to the dealer and drive one. This car isn't always located at PERRIN Performance, so please call before you want to take a look at it.
GALLERY
Below is a few pictures showing off the car in its many states. If there are specific pictures you are looking for, let me know and I will upload them!