Share This
The Idea
A while ago, a customer said something to me that made me think about a better purpose for the PERRIN Horn Bracket. I mean everyone loves a good horn and loves that look of the Hella horns behind their bumper. But really, who uses their horn enough to warrant that. For a matter of fact, why not just install some red circles behind your grill?
Ok, kidding aside, while horns are good to have and I loved my Hella horns on my 2015 STI and other 2015 WRX, I wanted to install something that was functional but still looked cool. Why not some LED driving or fog lights?  They would show up while turned off, they would actually allow you to see better, and it would be something I would use everyday (especially in the winter).
I started with researching LED lights that were smaller than 5″ and reasonably thin. There were so many to choose from and after getting a few samples of some high end lights, i found most to be really heavy because how how beefy they are made. Even though our Hella Horn Bracket is really thick 304SS, I didn't want there to be small vibrations that would cause the lights to jiggle while driving down the road. After doing some digging, PIAA has a bunch of lights that would work. Since they are local to us and we have a nice hook-up there, I was able to test out a few.

I settled on some PIAA LP530's, but a close second was the RF 3″ cube lights. Both fit perfect, look great, and are pretty lightweight. This is important as many others were about twice the weight and could compromise our bracket over the life of the car.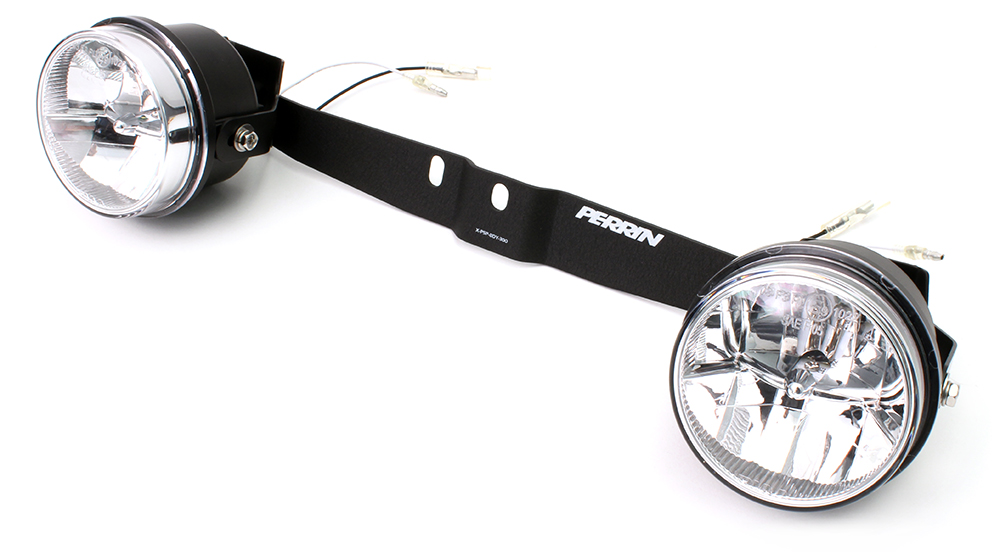 Everything you need comes with the PIAA lights, and the only thing I did is use my own M8 hardware to mount them to our bracket. Even with the bumper removal, the whole install only took about 1 hour. This was done on my Base WRX, and since it didn't come with fog lights to start with, I had to install a switch. Had this been on a car with fog lights already installed, this would have been even easier!
What Car Will This Work On?
This works on the 2015+ car because the distance between the bracket and the gill is huge! I would say almost any light that mounts on center with the light will work on these cars (as long as you consider the weight). The 08-14 WRX/STI also has quite a bit of room but its the other cars that won't work. There just isn't enough room on the 02-05 cars and the 06-07 cars the grill will cover up too much of the light.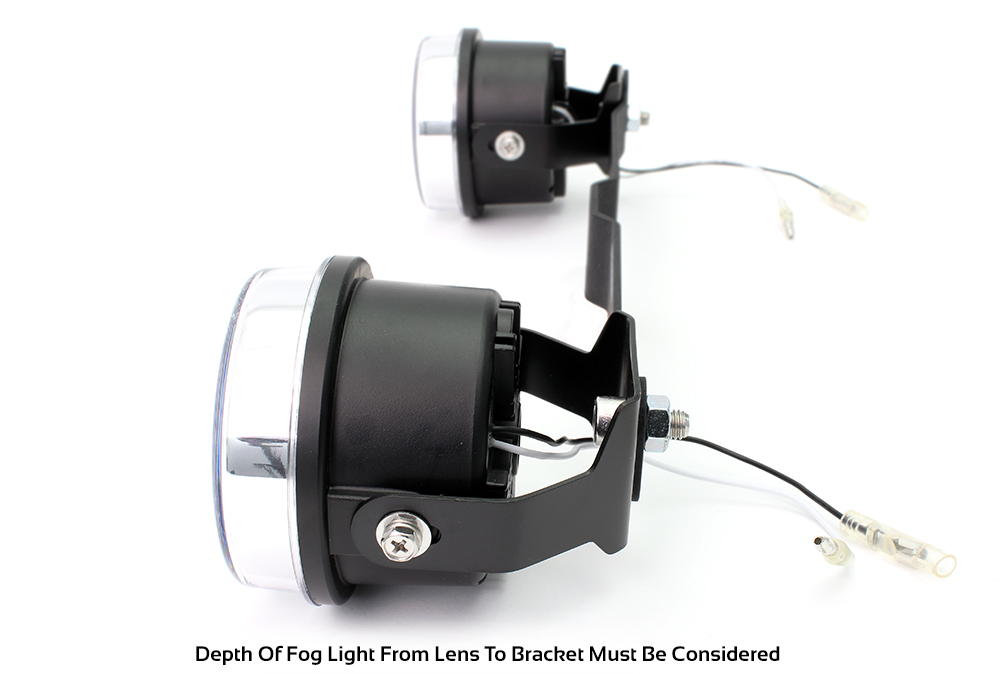 If you are not using a PIAA light, consider the lower profile the light is, the better chance it will fit behind the grill. The lighter they are the better to reduce the amount of bouncing around that could occur. The bracket for the light must be able to mount behind and centered with them as well. Lastly consider the outside diameter of the light and stick with something smaller than 5″.
This whole idea only works, because our bracket is made from heavy gauge stainless steel. Other thinner brackets, ones with a million holes,or ones from aluminum are not going to hold up, and or will cause the lights to bounce around a bunch. We over built ours to be able to handle the heavy Hella horns and it just so happens to work for LED lights!
Lights on…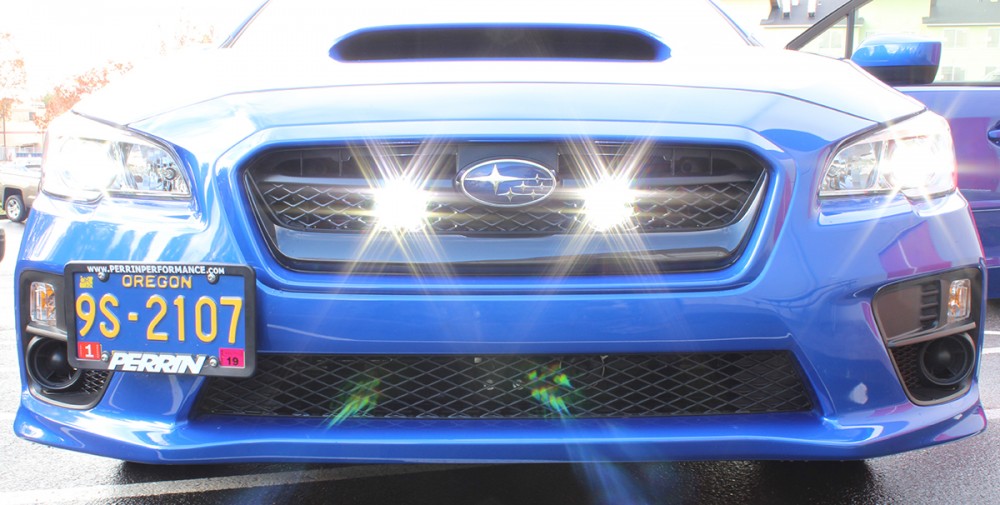 Lights off…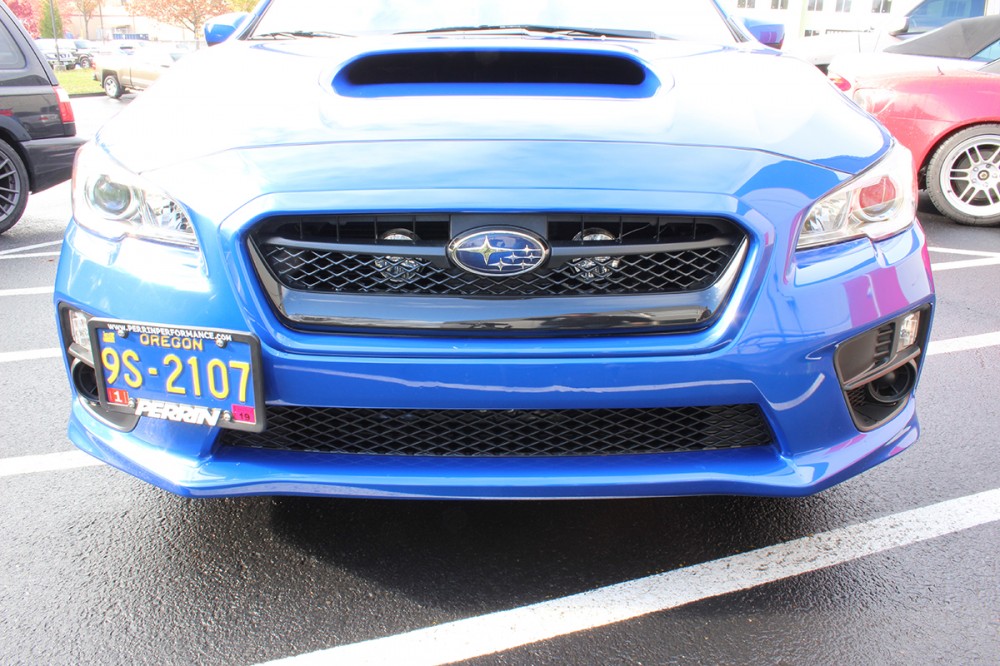 The idea of installing some LED lights on a PERRIN Hella Horn Bracket is 100% valid, and 100% something we expect people to start doing! Trend started here! At least, I think it was…
It happened to be a nice foggy day during the pictures. It does make them a little grainy, but you get the idea.