Share This
Thomas begged me for about a year to tune his car and I finally gave in a few weeks back, when I had some spare time. Thomas's 07 WRX, as far as drivetrain and engine parts, is a typical Stage 3 car with a TMIC, but it has a gearbox with the JDM RA gear set installed. The gearing of RA gear sets makes it really fun to drive, lost of shifting, but super close ratios. For sure a good upgrade over the stock gears in the 5spd boxes. What is HellaFlush? HellaFlush is a slang term to describe your car when you have wheels and tires that are literally flush with the body. Like most things people take this to the extreme and do extreme things to make their car as "HellaFlush" as they can. Once yo have a grasp on what this means, watch THIS VIDEO. If you laugh like I did, your probably not cool :) So Thomas's car is 100% HellaFlush and for sure on the extreme side of things.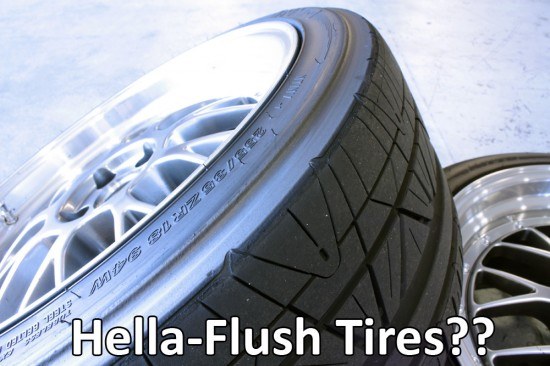 No, that groove is not built into the tire, its worn into the tire from it rubbing on the fender for a few months. I guess it not cool to roll you fenders, just let the tires self clearance things. Next thing noticed was his car was missing some other under carriage pieces.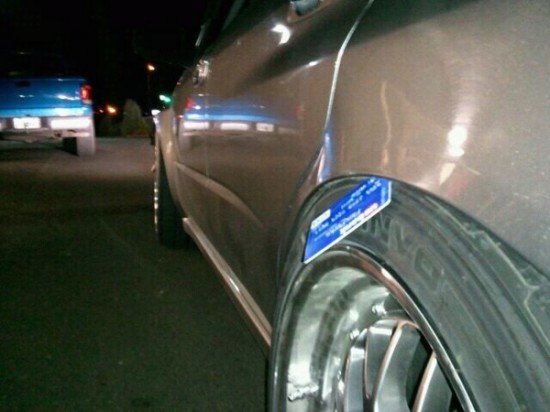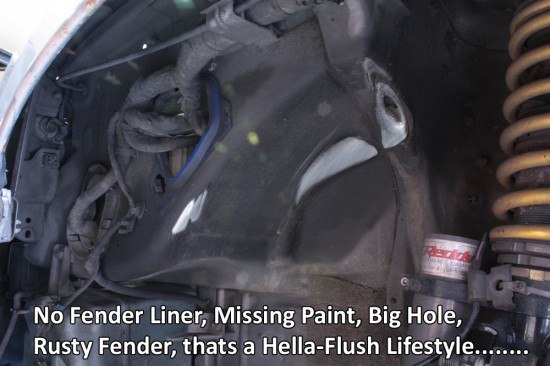 Why is this cool again.... Ok I am done making fun of Thomas's car now :) Like all our other tunes its vital to do a pressure check to ensure there are no boost leaks or vacuum leaks. Like many cars, there were leaks. We pressure test them all to 20psi and fix any leak we come across. Like many cars I have tested over the years, there were a few little leaks in the intake system and boost system. A piece of paper used as a gasket for the BOV just doesn't cut it. Not a big deal, easy to fix. Below you can see our simple test fixture. Using the dyno to measure boost and a typical air gun, this makes short work of the pressure check. During this I found a crank case vent that I wouldn't really consider a vent, more like a plug. The main crank case vent from the PCV system was completely pinched flat! This is a main artery for crank case vapors to escape and it was freaking plugged! Rookie!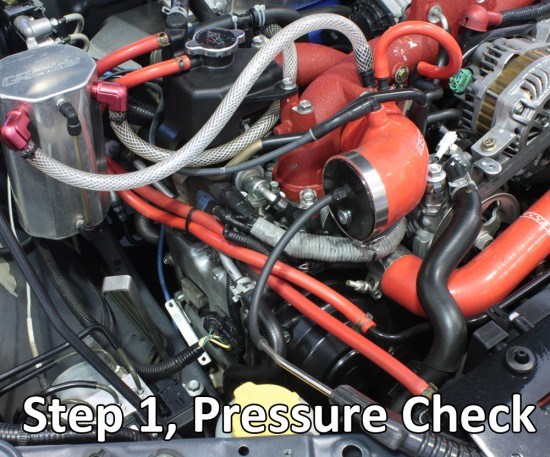 I know I said i was done making fun of Thomas, but......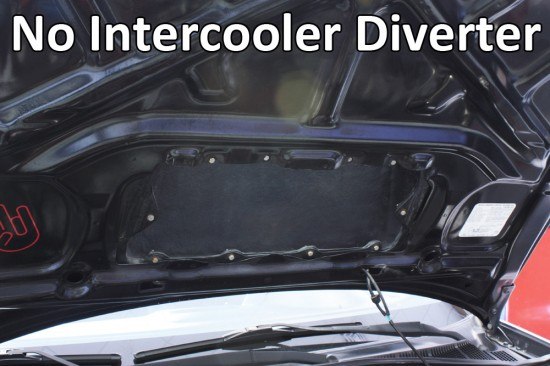 DUDE! Where is your IC diverter! This is a major flaw with the performance aspect of the car. Your air flowing through the scoop is going right over the intercooler and not through it. This is just not cool! Luckily i had an STI one laying around that I just sandwiched between the IC and the hood. Thomas bought what he thought was the best hood out there from Seibon, but they don't even put in the holes to install the stock diverter. FAIL!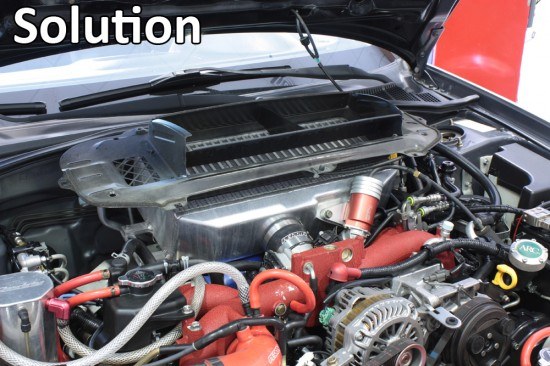 Thomas has one of our old Signature series BOV's which i hadn't seen in a long time. This is what drove us to make our current ones in red.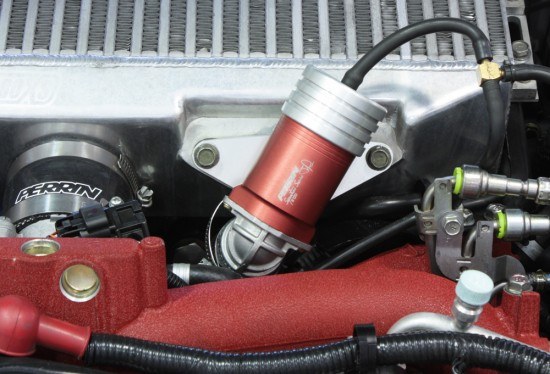 ___________HellaFlush = Cool ________Holes in fender = Not Cool ___________Worn Tires = Not cool ___________Boost leaks = Not Cool ___No Intercooler Diverter = Not Cool ___PERRIN Sig Series BOV = Super Cool ________Thomas's 07 STI = Cool Onto the dynoing. Thomas had the Cobb Stage 2 map in his car and you can see below it made good power. But for sure there is tons of HP and TQ left on the table. Most all Stage 3 cars tune very similar in that you pretty much run the Wastegate Duty Cycle at 100% to get the 20-ish psi of peak boost and the typical falling boost curve. As you can see I added 30whp and 40ft/lbs of tq. AFR's were still in the low 11's which makes this a very safe durable tune. The one place that the most improvement was had, is at redline where his car made an additional 50WHP. That and the 40ft-lbs more TQ at 3000 makes this a really strong setup.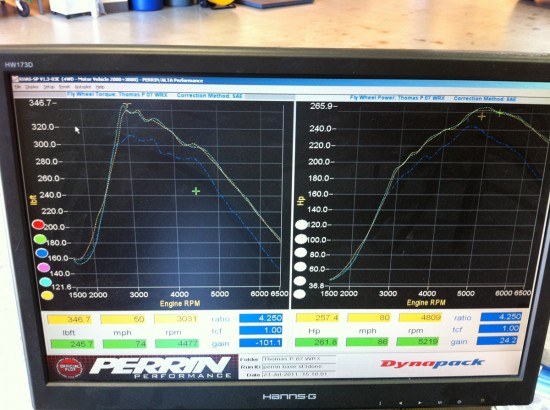 So what have we all learned from Thomas's car? Check for boost leaks, make sure you crank case hoses are not pinched, get a custom tune and go HellaFlush. PS. Thomas is a good friend, so i can get away with making fun of him, and his car really does look awesome.