Share This
For those that have been following us on our posts about the exhaust pieces we have been making, this diagram is for sure a repeat. For the new guys seeing this for the first time, its good to understand where this part falls in line with the BRZ/FR-S exhaust.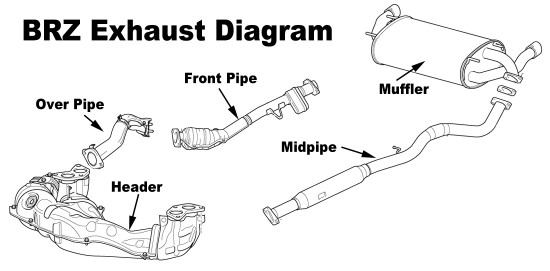 Why is this part called the overpipe? Easy, it goes OVER the subframe, and its a pipe. WRX owners can think of this like its an uppipe, because it goes after the header and snakes through a small tight area. Because this part is located in a tight area and not very easy to get to, I built the prototype off the car using a quick fixture I threw together.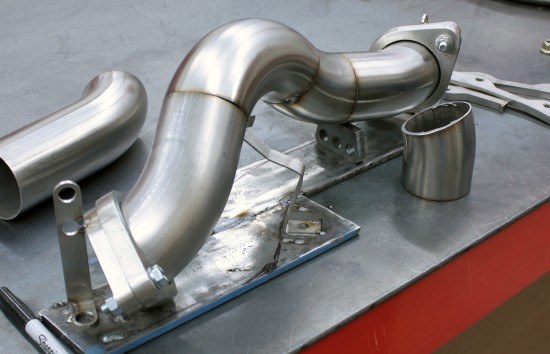 This fixture is not anything like we would use to mass produced these parts, but rather a way to build the part efficiently off the car.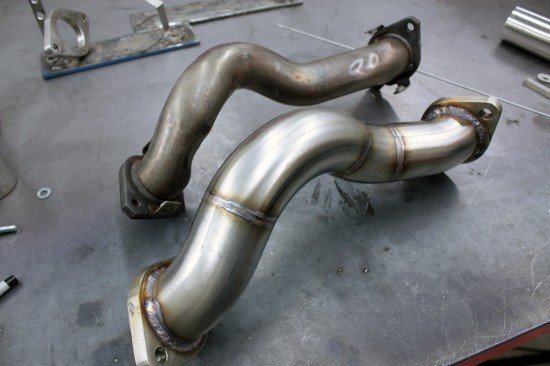 This is a good side by side comparison of the OEM part on top and the PERRIN 2.5" prototype on the bottom. The factory part is made from 2.118" OD tubing (like the rest of the exhaust) and has a couple of really sharp bends along with an area with a big crimp. The PERRIN part we made is 2.5" tubing and smooth mandrel bends.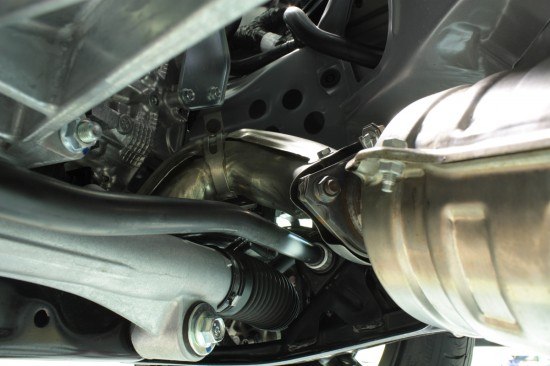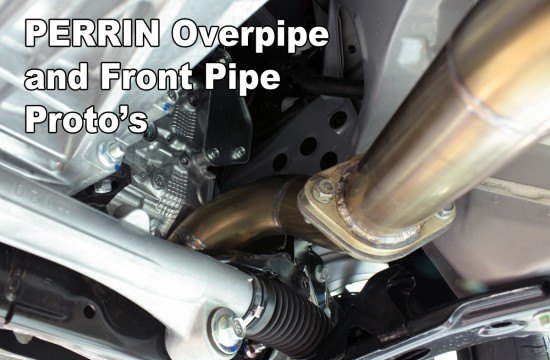 So its bigger diameter, and smoother bends, does this actually made a difference?
This test was done immediately after the front pipe testing we did. We did 4 runs and they all showed the same thing, a slight increase in HP in the 4500-6000 RPM range. The peak change in wheel HP was about 3 in the midrange. So not tons, but its something. In our last post about the ECU holding back the HP due to some internal limits. The overpipe could fall into the same thing as the other parts, in that after an ECU tune is done, there is even more HP to gain from it. So as soon as we can retune the ECU, we will be retesting this part along with all the others.
Recap on BRZ/FR-S Dyno results.
PERRIN Muffler delete made 3 Wheel HP.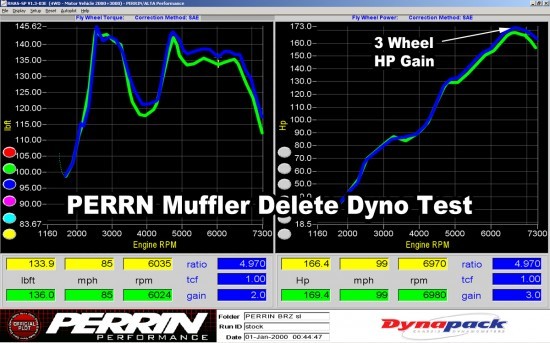 PERRIN 2.5" Catback System made 7 Wheel HP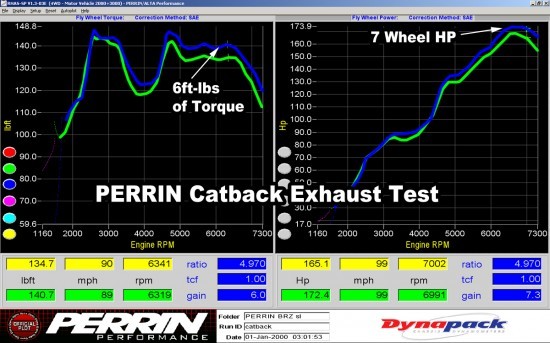 PERRIN 2.5" Front Pipe without cat made 5 Wheel HP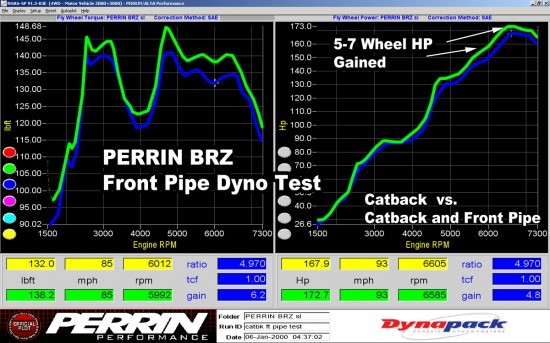 PERRIN 2.5" Overpipe made 2-3 Wheel HP.
You can see the trend in Wheel HP. Even though these tests were very repeatable, there is a point where they just don't make as much as they should. So until the ECU tuning revolution happens, You will have to be ok with 8-ish wheel HP, and some really cool sounds!
These results are from the stock BRZ to the last runs we did. These were not done on the same day and if you read my other posts, you can see that there seems to be a limit of HP gained.