Share This
We have only had the car for a couple weeks now, but we have been looking at the BRZ/FR-S world for months trying to figure out what customers are going to want. From what we see, one of the most talked about parts is a catback exhaust system. People want an aftermarket exhaust to free up some HP and add some cool sounds to the car. With both these things in mind, we set out to build an exhaust system to perfectly satisfy both needs.
First thing we hit on is performance.  In the world of 4 cylinder NA (normally aspirated) power, we see that 2.5" is the standard for performance cars. As long as its not too loud, 2.5" is going to produce enough power for customers and hit that level of sound that people will want. While a 2.75" or 3" system will make more power, it will be a while before this is needed. Its going to a while before we can tune the ECU, add more aggressive cams, and add valve train components to bump the redline up past 8000 RPM. Until then, a 2.5" system is the best option.
We find with the other cars we deal with that there are generally two kinds of sound customers like. Some want just a little something they can hear, but not so loud it attracts the police. Some want something that is loud, and don't care about cops or neighbors. Knowing these things, we set out to make two different styles. One with a resonator that would keep the customers concerned with noise happy, and one with no resonator, for the guys that would like it loud.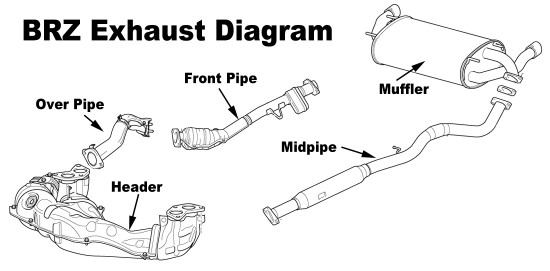 The stock exhaust system consists of a header, overpipe, front pipe, midpipe and muffler section. For now we will skip over the header as this isn't something we plan on making right away. Starting from behind the header, every piece of the stock exhaust is made from tubing that measures 2.118". That includes the overpipe, Midpipe and muffler section before the muffler.  This great room for us as there is room to improve.
I made this quick little muffler delete pipe a couple days after getting the car. The sound was ok, but nothing to get excited about. There were some hints of "farty-ness" and lack of that race car like sound. Also looks terrible not having a tip on both sides of the car. This was actually the first part we dynoed on the BRZ and I wasn't surprised to see 2-3 Wheel HP.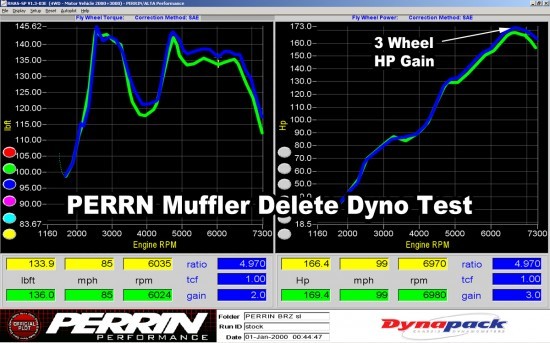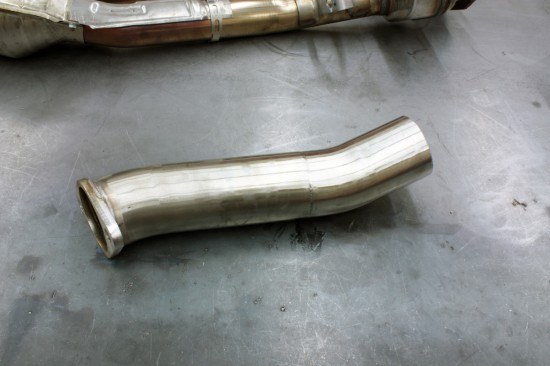 We took a different approach with this car, and decided to make a catback system that only fit with it self instead of being concerned about it fitting with the stock  midpipe. This allowed us for more freedom of pipe routing and ease of modifying theh muffler to tweak the sound we wanted. In the end, we eliminated bends making for more HP potential.
You can see from some of the mock up shots that the system is very smooth, very simple and uses V-band flange type connections where possible. This creates a simpler system, with only one gasket (at the front pipe connection) and also a very low profile system.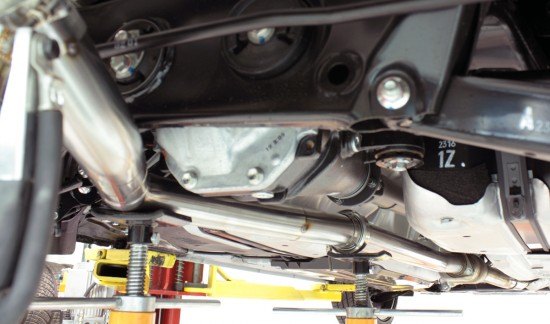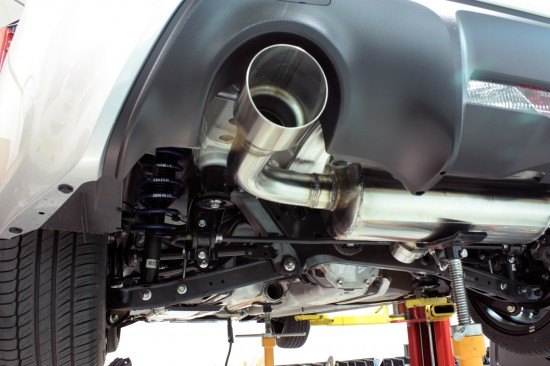 The catback exhaust also has to look really cool from all angles. Not only just the tips, but the mufflers, the tubing, and what it looks like to the person driving behind you is important. We felt that a center inlet muffler helps create this really cool look with a very symmetrical looking system.
.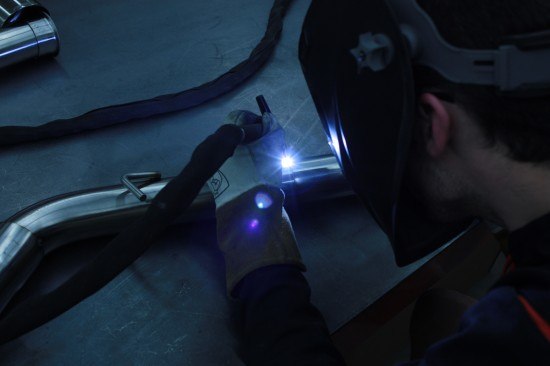 With our mock up done, it was time to stick it all together. Yes, I am TIG welding the exhaust together, but most likely we will end up MIG welding the system to help keep the costs down. TIG welding for catbacks does nothing but makes them look cooler. There isn't much benefit other than that as the catback isn't dealing with the same kinds of vibrations and temps like a header might see.
What is important is material and finish. These pictures are all of the prototype system(s) we made,and while the TIG welding may not exist on the final product, the rest of it will look just like these pics. That means the nice brushed finish and the 304 SS tubing will be used. We make all our exhaust systems in 100% 304 Stainless Steel, which is used for the tips, the tubing, flanges,muffler body and even the inner core. Anything less just rusts and fails in east coat climates where roads are salted.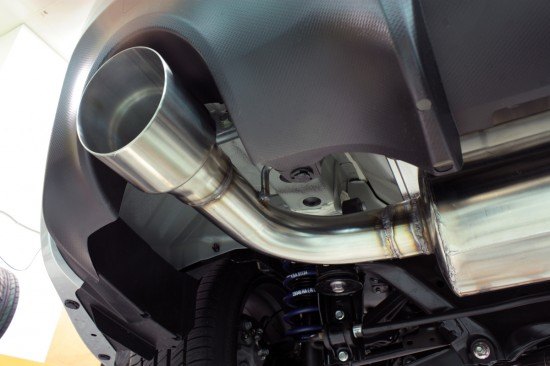 Here is another shot showing the system from the left side of the car.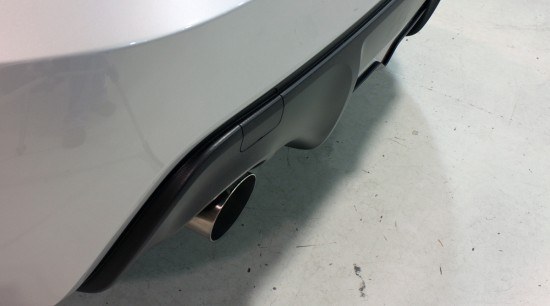 Close up of the tips from a bit of an angle.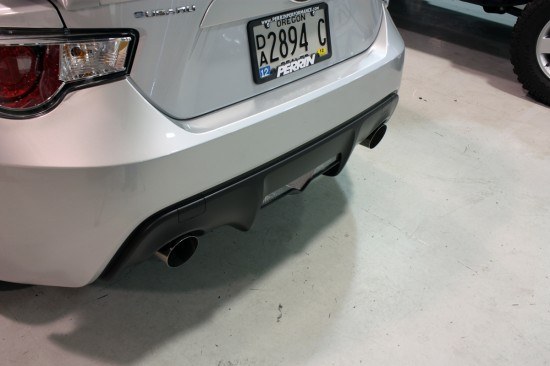 A  little further away.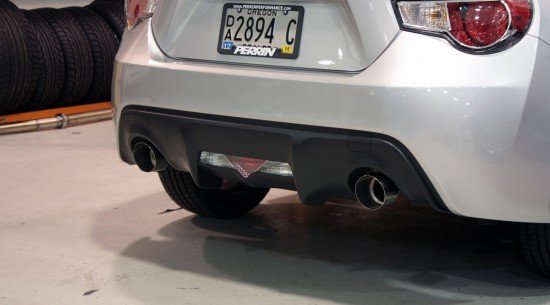 A shot from the right side.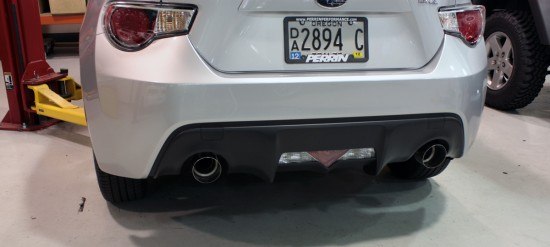 And finally a couple shots from just off center and on center.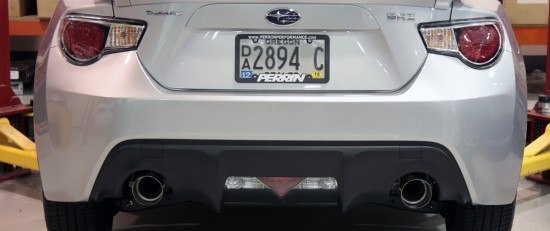 After the system was done we did some adjustments to change the sound (making it quieter) and then it was time to throw it on the dyno! Our base runs were done (7 of them actually) and in 10 mintues the stock catback was replaced by our prototype system. We did 5 runs to back up the HP we saw and we were amazed to see 7WHP! 7 Wheel HP isn't tons but considering we see 10WHP on an STI, 7 isn't too bad. This also shows that the stock midpipe is holding back some HP.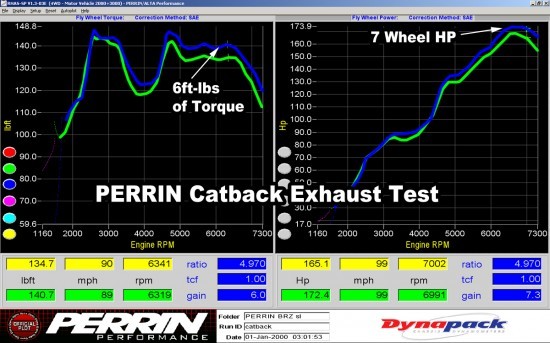 This dyno session is the first of many to come. From this day forward our Shop BRZ will most likely live on the dyno. This car is the one we specifically bought for nothing other than to sit around and get tested and tuned and beat on. I see that many of our competitors are coming out with new parts here and there and they don't even have the car. They rely on customer cars to get their intakes, exhaust and other R&D done, which is not how we work! Not having a car at our disposal means we have to hurry to make something while we have the car available, which can lead to poorly designed parts or ones that just don't work. It's one of those things that we do different than other companies out there, that we hope our customers see as a real commitment to the car.
Here are some preliminary weight stats. The stock system weighs 38.4lbs. The prototype catback with resonator, is 34.25lbs, and the resonator-less system is about 26lbs. Keep in mind that is a larger tube from stock and not the final numbers.Then there is the front pipe we are going to offer, which is also much ligher than the stock part.
So back to the exhaust. You can see how it looks, you can see that its makes horsepower, now how does this all sound?
Here is a video on the dyno with the stock exhaust, then PERRIN Catback with the resonator, then PERRIN Front Pipe with no cat and Catback installed. This was all done in a controlled environment to show the differences between the three setups. The sound is pretty accurate if you compare each of them together. This does have added sound of dyno which muffles some of the cool sounds of the exhaust.
Below is a nice video showing some outside the car shots. This is a much better representation of how it sounds in the real world. These were only done with the PERRIN Front pipe and 2.5" Catback with resonator.
And finally one more video. This video has a little of everything. Full throttle, normal driving, short shifting all showing the sound of our catback with resonator, and catless front pipe.
OK, so we have proven that our catback makes HP. Now its time to build and test the front pipe!