Share This
This is the first time I have made a post on a forum that wasn€™t business related for our company, and it should be a good one! I am excited to be just one of the forum guys this time around. I bought my 09 135i last year just before SEMA time mainly because I was looking for something new and different to drive than a loud,stiff, and over powered AWD car. I wanted something that would be satisfying, non-racer boy looking and something I wouldn€™t feel like I had to mess with. I was very intrigued by the BMW turbo motors and after taking a 135 for a quickspin I was sold. Its quite, smooth, quirky looking and the build quality is far better than any Subaru or Mitsubishi, something you all already know! But like many of us here, I am addicted. Its like an HAA meeting, (Horsepower Addiction Anonymous) Hi my name is Jeff Perrin, I am addicted to horsepower€¦ I have to mess with things, I have to take them apart, I have to make them better, I need more HP! There has never been a car I have owned that didn€™t get modified in some way or another. While the intentions were to not modify the 135i, my urge was growing! My first few times surfing the BWM forums all I saw was piggyback this and piggyback that. I just couldn€™t believe that guys were buying these rather old school ecu tuning devices for their high-tech expensive cars! I have had many dealings with piggybacks in the past and there is always a limit or a problem! There is always something sacrificed for the cheaper less expensive part. I know that all the BMW world knows, is piggybacks, but in any other car world, piggybacks are looked upon like Osama Bin Laden. Maybe its a bad example, but in all other car worlds, if there is an ECU flash, that is what you buy! It seemed like the few flashes out there were either expensive, a pain to get flashed, and then getting similar results to the piggybacks. When I found out COBB was coming out with a N54 ECU based AccessPORT, I was excited as I knew it would kick ass! Especially if they do the normal features that come with other AccessPORT that are available. I have always said that a proper tune can be done many ways,and to give the piggybacks credit, from what I have seen on these forums is that there are some proper tunes done. But after comparing their HP results to what I have now seen with the AccessPORT results, they are missing out on soooo much power! That is because of limits! The AccessPORT maps have many key limiters unlocked that piggybacks and others ECU reflashes can€™t get around. I think the competitors to the AccessPORT will NEVER be able to make as much power, and make as much €œsafe€power because they can€™t get around these limits. My great connections at COBB got me into some of the beta testing on the AccessPORT for the N54 powerplant. And after I was able to dyno the released version of the Stage 1 mapping I was absolutely floored by the power gains. I have been stewing here just waiting to publish these numbers and finally I can put them out there to see. Keep in mind whether you have a 135i or a335i with an N54 engine these are the same results you will see!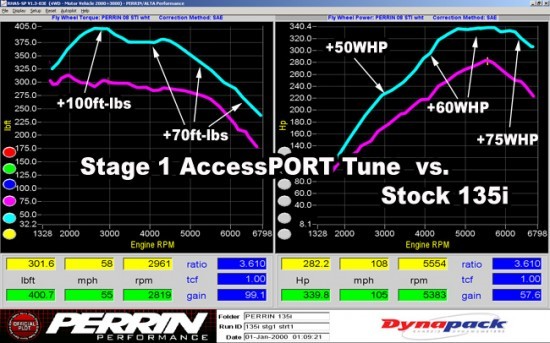 I did about 4 runs with the stock tune when it finally leveled out on power. The one you are seeing is the highest HP run from the stock runs. After about 8 minutes of flashing the ECU (only 8min first time then about 54 seconds for the rest of the map changes) first pull was very strong, then about 4 runs the car ran consistent and that is the graph I used. In the short period of time its been out, I see lots of people asking COBB about the Protuner Software and getting custom tunes done and if there is more power on the table. For sure there is power on the table! Rob at Cobb sent me a couple of test maps and again, I was floored at the results on the dyno.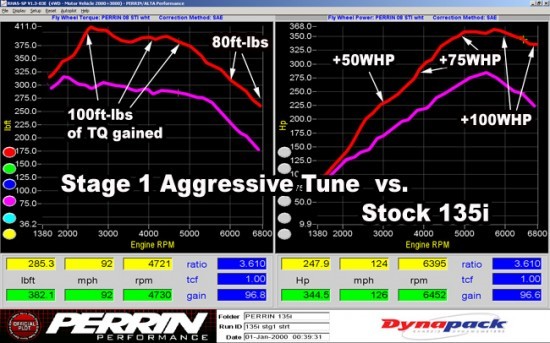 The gains are huge over stock! Now we are talking 100WHP and 100ft-lbs gained! Lets see a piggyback ECU do that! Keep in mind COBB€™s base maps are always conservative, and even if the first graph represents conservative, just wait for the custom tunes! While €œPERRIN€most likely isn€™t going to make BMW parts (maybe I'll make some one offs for my car), or buy the Protuner software to make money selling BMW AccessPORTs, I might buy it just for my car as its so easy to make power with! Well, going back to my original reasons for buying this car, I still have my quiet, smooth, quality built car, but man it is getting close to that over powered stage! Awesome! Time for an LSD! BTW, what is with these cars and no LSD!! So dumb! Keep in mind that I am posting here because I love my car, I love the power, I want to be part of the BMW community and I am a huge believer in the COBB AP. The only thing I gain is some relief to my HP addiction. I hope others see my post as another independent review not a promotion for our company. Feel free to ask me any questions!