Share This

Introducing the ALTA Tensioner Stop! While the idea of this part is not new, our execution of it is. This unique design allows the end user to install the part faster than other designs, and function the same with ZERO chance of failing. Why do you need an ALTA Tensioner Stop? At some point in your cars life, the serpentine belt that allows the crank pulley to drive the Supercharger and AC, will fail. When it fails, there is a failsafe built into the OEM tensioner mechanism to keep the tensioner from destroying other parts, but the failsafe fails! When this happens, the 3 parts that get destroyed can cost $300 in parts and not to mention the labor to replace them. This is where a tensioner stop comes into play. It a failsafe for a failsafe!
The ALTA Tensioner Stop essentially hooks around both ends of Tensioner dampener and limits the travel of tensioner arm. We have designed it to limit the travel of the tensioner to the same point as the OEM tensioner stop. This allows for normal travel of the tensioner up to the point at which the OEM tenionser stop fails. Some designs require you to remove the OEM tensioner assembly from the car (jacking up the motor is necessary) and completely unbolt the tensioner dampener to install. The ALTA Tensioner Stop still needs the motor slightly jacked up, but allows the Tensioner assembly to be left in the vehicle and only the loosening of one bolt is needed for installation. This saves about 30 minutes of shop labor to install it.
In our testing of the ALTA tensioner stop, we had gone through a few designs one of which was a version using a cable with crimped on ends. We ended up not using this as of the 3 prototypes we had crimped (proper crimping machine) one of them failed on our fixture! Even though the ends are rated for more than enough to hold the tensioner, the varience in how they are crimped caused a failure. This led us to the design you see here. With this design there is no way the tesnioner/spring will overcome the tensile strength of the Stainless Steel strap.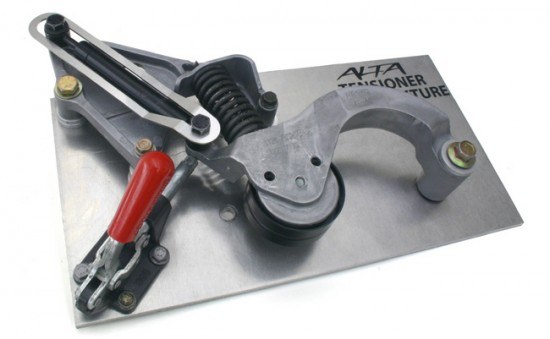 Make sure to check out Video we made showing how it works, and showing how the OEM one doesn€™t work!
Anyway, we told you guys and gals we had a few R53 things up our sleeves, and this is one of 3! Be on the look out!