Share This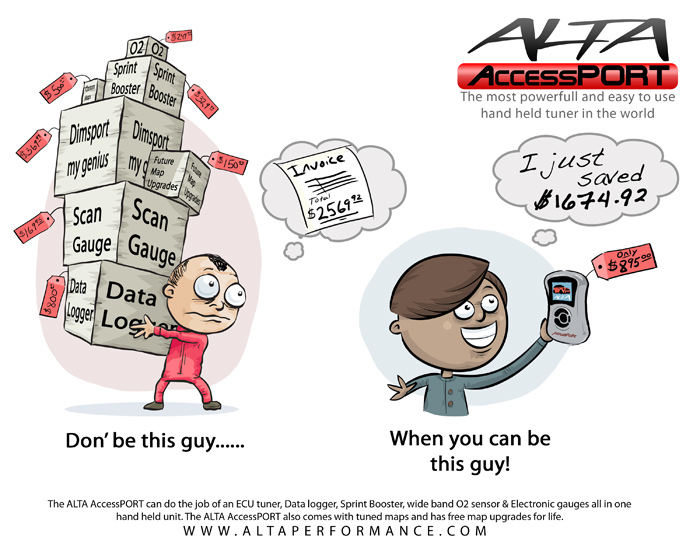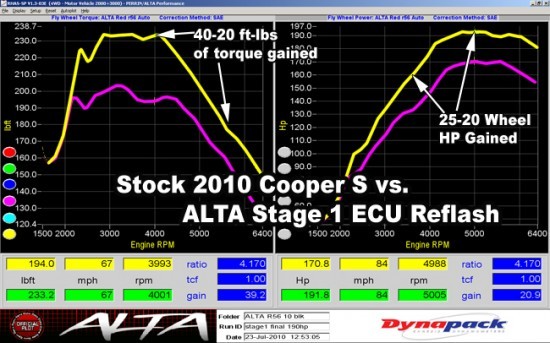 Here is an example of a 2009 MINI Cooper JCW with ALTA Performance Stage 1 Tune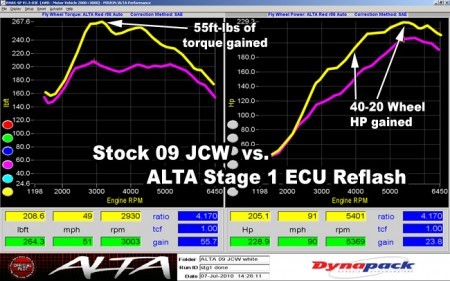 What can the ALTA AccessPORT Maps do for me??
Besides the regular things like changing boost and timing to make more power, below are some things we change that other tuners can not. We feel this really gives us the advantage over other tuners and provides you with the best maps possible.
-We can raise the rev limit.
Others can do this but there is one thing that they don't fix, the "Over-Rev Recorder". Many Euro cars have this function that when the engine RPM exceeds XXXXRPM it will record all the data at that moment and save it deep in the ECU. All the turbo Mini's have an Over-Rev Recorder set just above stock redline. So if a tuner bumps up your redline, and doesn't change this, this could lead to a voided warranty. When we change the redline, we also bump the Over-Rev Recorder up to keep BMW happy.
-We can change the Sport Button to make more power.
This is something that people have wanted for years! A sport button should be sporty, not just heavier steering and a more annoying throttle! We can make the Sport button produce more or less power than the normal mode. We can also manipulate the throttle so its not at 100% throttle at 50% pedal. We can make the throttle much more linear which is great for cars with turbo back exhausts installed or other super responsive setups.
-We make the Air Fuel Ratio richer.
We are able to change the target Air Fuel Ratios to a much safer level for high boost and high horsepower applications. In stock form the engine runs very lean under high load. Because these engines are Direct Injection engines it allows them to run like this, but this is very dangerous for extended periods of time. We richen up the Air Fuel Ratio to levels that are safer and will allow for more power! We mention this somewhat obvious feature as some tuners are not able to change the Air fuel ratio to much different than stock.
-EGT Limits raised
The Mini ECU uses a calculated EGT (Exhaust Gas Temperature) to determine when to change from a super lean 14.7 Air fuel ratio to its safety backup fueling map. Believe it or not, your engine always hits this EGT limit around 3000-4000 rpm under full throttle after a couple of full throttle runs. We raise this limit and change the entire Air Fuel Ratio curve to better suite a car with high horsepower and torque.
-We can raise the boost limit.
Important on JCW as it likes to run more than 21psi! All our JCW tunes have this bumped up to 24psi.
-Raising the Speed limit
While its not legal anywhere to go above 100MPH, we bump the stock Speed limit up to 190MPH to ensure you never hit the stock limit of 150MPH
-Torque limits.
The ECU uses Torque to control many things on the engine. There are many limits that hold back the ability to make power beyond just a few extra horsepower and we have the ability to allow full torque from your engine. Some tuners say they reduce traction limits by 15%, but this really is just bumping up the torque limit. This has no effect on traction control it only effects overall power and potential for more power. We bump this up to a point where there is no limit to how much torque is being applied!
-Variable Cam Timing(VANOS)
We are able to change the cam timing angles to provide even better turbo spool up. We have full control over the Intake Cam angle, which can provide roughly 200 RPM quicker spool and smoother power delivery across the RPM band.
-Ignition timing vs Air temp limits
The stock mapping is very very aggressive and when temp raise even slightly above normal, you are losing power. We map this map much more realistic which makes power much more consistent while still keeping the safety factors in place for extreme conditions hot or cold.
-Launch Control
A very fun feature if you plan on doing drag racing. We can set this RPM limit (for when the car isn't moving) and it makes for consistent launches everytime. This RPM limiter does not build boost and it not hard on your engine in anyway. The way it works is purely throttle based. One more thing to keep in mind for all of NAM. We own our test cars! Its an amazing concept i know! We sadly sold our 07 MCS a short time ago, so now we only have 3 Minis (not including a GP) all of which are tuned, testing beat on, parts installed over and over again. We don't have to rely on barrowing cars from customers to test parts. We also don't learn how to tune ECU's on customer cars! Since we have our own dyno, we can test things whenever we want. We don't need to schedule anything with another shop. This allows us to tune accuratley, faster, and grasp concepts surrounding the ECU and engine. Combined all that together and that is what makes us tuner.

Find all of the latest AccessPORT Data Monitors to use with DataLogging. Data Monitors in bold indicate a default logging value.
Standard
Metric
Metric w/AFR
Data Channel
Units
Units
Units
Battery Volt.
V
V
V
Vehicle Speed
mph
kph
kph
Cal. Gear
Gear
Gear
Gear
MAF
Airflow
Airflow
Airflow
Time Period, MAF
µs
µs
µs
RPM
RPM
RPM
RPM
Req. Idle
RPM
RPM
RPM
At Idle
on/off
on/off
on/off
TPS Act.
%
%
%
TPS Internal
%
%
%
Baro Pressure
%
%
%
MAP
PSI
kPA
kPA
Req. Boost
PSI
kPA
kPA
Bst. Mult. Adapt
Boost Ctrl Act.
on/off
on/off
on/off
BPV Act.
on/off
on/off
on/off
WGDC
%
%
%
Boost PID Corr.
Timing CA
°
°
°
Torque
NM
NM
NM
ECT
°F
°C
°C
Oil Temp.
°F
°C
°C
ECU Temp.
°F
°C
°C
Amb. Temp.
°F
°C
°C
Cam. Ang. Req.
CA
CA
CA
Cam Angle
CA
CA
CA
Fuel Pressure
MPa
MPa
MPa
Fuel Pres. Reg.
MPa
MPa
MPa
Lam. Setpoint
AFR
λ
AFR
Lambda
AFR
λ
AFR
Lambda Act.
on/off
on/off
on/off
O2 Sen1
V
V
V
O2 Sen2
V
V
V
Knock Flags
Cyl1 Knock V
V
V
V
Cyl2 Knock V
V
V
V
Cyl3 Knock V
V
V
V
Cyl4 Knock V
STFT
LTFT
Boost
PSI
kPA
kPA
Req. Bst Delta
PSI
kPA
kPA
Lambda Model
Intake Mani. Temp
°F
°C
°C
Load Per Cyl.
Load
Load
Load
Load Requested
Load
kPA
kPA
Torque Requested
%
%
%
EGT (Mani.)
EGT
EGT
EGT
Timing Conv. Div.
Factor
Factor
Factor
Torque Efficiency
Factor
Factor
Factor
Timing Cyl. 1
°
°
°
Timing Cyl. 3
°
°
°
Timing Cyl. 4
°
°
°
Timing Cyl. 2
°
°
°
Tune:
Change Map:
Reflash
Yes
Change Map Time
42s
Show Current Map:
Reflash
Yes
Install:
Save Stock Rom
Yes
Total Install Time
Dump: 1m 18s Flash: 39s
Monitor:
Live Data
Yes
Data Log
Yes
Set Rev Warning
Yes
Set Live Data List
Yes
Set Data Log List
Yes
Reset Live List
Yes
Reset Log List
Yes
Troubleshooting:
Reset ECU
Yes
Read Codes
Yes
Clear Codes
Yes
Display:
About:
Firmware
Yes
Dongle Info
Yes
Part Number
Yes
Serial
Yes
Installation State
Yes
Vehicle
Yes
Language:
English
Yes
French
Limited
German
Limited
Greek
Limited
Japanese
Limited
Spanish
Limited
Units:
Metric
Yes
Standard
Yes
Metric w/ AFR
Yes
Uninstall:
Restore saved ROM
Yes